Southbury Police Department

---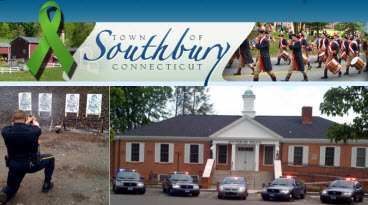 MISSION STATEMENT
We, the Southbury Police Department in Partnership with our community are committed to maintaining the peace, protecting life, protecting property, preventing crime, and providing professional law enforcement.

We shall provide these services with compassion, dignity, and proficiency within the framework of the United States Constitution.

To enhance the quality of life for all citizens, we will cooperate with other agencies and groups to resolve community concerns.

To fulfill our mission, the Southbury Police Department will provide a supportive work environment that fosters the professional development of its members.

Service will be our commitment, honor and integrity our mandate.
POLICE DEPARTMENT PROFILE
The Southbury Police Department consists of 23 full time police officers, one Resident Trooper Supervisor, 5 full time dispatchers, 2 part time dispatchers, and 2 civilian employees.

For the Southbury Police Department, patrolling means more than being mobile and highly visible, it means getting officers out of the patrol cars more often, so they can interact with citizens and business owners in a more positive manner. The Southbury Police Department prides itself on community involvement.

The Southbury Police Department is striving to maintain a quality and professional Police Department. In addition to the basic technical skills officers receive additional training in DUI enforcement, Accident Investigation, Crime Scene Investigation, Interview and Interrogation Techniques, and Computer Crimes.