Westbrook ME - Police Officer
---
Job Announcement

WESTBROOK, MAINE POLICE DEPARTMENT
*Professionalism *Accountability *Compassion *Integrity *Fairness *Courage
POLICE OFFICER
* Immediate Police Officer Openings*
$14,000

signing bonus for BLETP Graduates with 5 years of experience and out of state lateral hires.
The Westbrook Police Department values every officer and is committed to investing in career development. We'll work with you to create a career path to attain your professional goals. We know that our profession is a demanding one and we're dedicated to supporting our officers on and off duty. At Westbrook PD you're not just a call taker. Our patrol officers are encouraged to follow up on their own cases and we afford them discretion to manage their proactive activities during uncommitted time. The City of Westbrook is growing by leaps and bounds. We want team players who are passionate about the law enforcement profession and have the skills and abilities to solve complex problems.
Our department of 45 officers serve and protect a growing population of roughly 20,000 residents. Adjacent to the City of Portland, and within a 2-hour drive from Boston or Bangor, our department handles a steady volume of calls for service and self-initiated activity. Combined, officers field nearly 35,000 calls for service annually. Our Department is committed to proactive law enforcement. We target violent criminals and those who choose to adversely affect the quality of life for the law-abiding citizens of our community. We're also a community policing oriented department, encouraging officers to be self-motivated, work with citizens to problem solve, and be active in the community.
If you feel stifled, micro-managed, overworked, and/or unsupported in your current situation, we encourage you to check us out. The grass is greener at Westbrook PD. We have over a dozen officers who have made the move and will attest.
MINIMUM QUALIFICATIONS:
Must possess a high school diploma or GED

Must be a US Citizen

Must be at least 21 years of age,

Must have valid driver's license with a good driving record.
EXCELLENT BENEFITS PACKAGE:
20-year retirement under MPERS; competitive salaries and steps; specialty, educational, military, and physical fitness stipends; generous vacation (up to 5.5 weeks) and sick leave accruals (120 hours per year) and cash in; low employee contributions to health and dental care; and a 4 days on and 3 days off 10 hour work schedule. Educational, military and specialty stipends are added to the base salary rate, increasing the hourly rates.
BENEFITS OF TRANSFERRING TO WESTBROOK PD:
Transfer candidates will be placed on the contractual salary and vacation leave scale at the rate equal to their years of full-time law enforcement experience. Many departments put a cap on years of service. We don't. Successful candidates that are academy graduates with 5 years of full-time law enforcement experience or out of state lateral hires receive a $14,000 hiring incentive, paid out in two installments: $7,000 upon final job offer and $7,000 upon successful completion of the one-year probationary period.
OPPORTUNITIES AT THE WESTBROOK POLICE DEPARTMENT:
Career development opportunities are available through specialty assignments (drug agents, domestic violence investigator, detectives, FBI task force officer, school resource officers, canine officers, tactical team members, peer support team, crisis negotiator, motorcycle patrol, bike patrol and traffic car) and promotional opportunities. Our training program is progressive, with many opportunities in-house, regionally and nationwide. There is ample opportunity for overtime, with numerous patrol shifts and outside details. Outside detail pay rate is $65.00 an hour.
SELECTION PROCESS:
Resume submission, interview, physical agility test, background investigation, polygraph, psychological exam, and medical exam.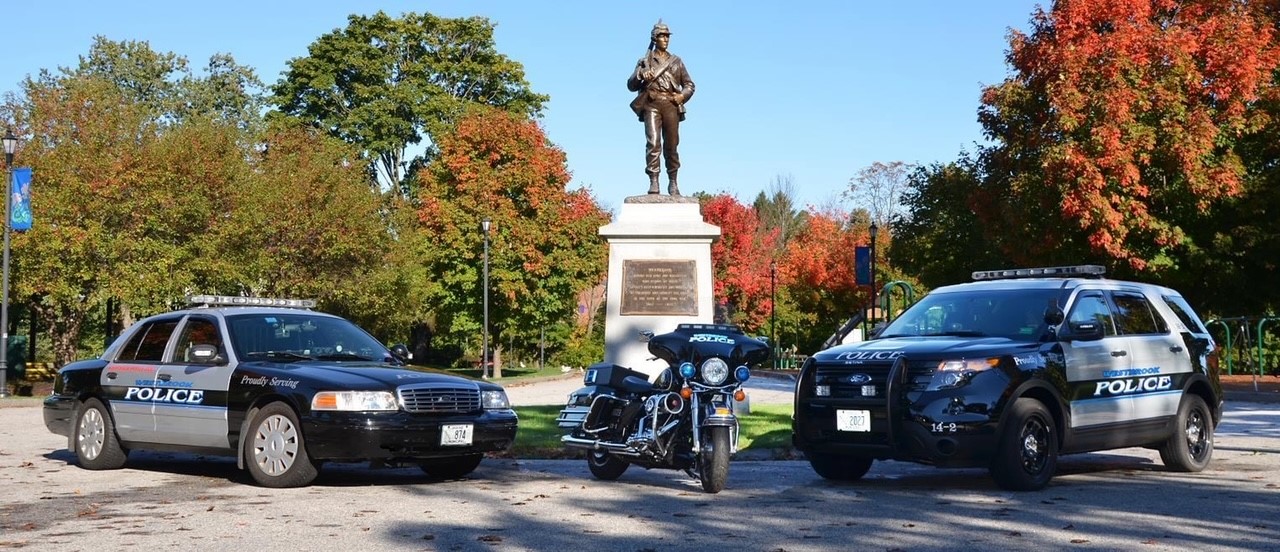 If you are interested in applying, please apply by going to www.PoliceApp.com/WestbrookME
Visit http://www.westbrookmaine.com for more information about our department.
For a copy of the latest labor contract, to schedule a ride along, or to ask questions call or email Officer Colby Clark: 207-854-0644 Ext. 2553 cclark@westbrook.me.us
The City of Westbrook is an Equal Opportunity Employer.
Please direct questions regarding this position to slally@westbrook.me.us
Jobs close at 11:59 PM (Eastern) on the deadline date specified, or when the position capacity has been met, or unless otherwise specified in the announcement. If the deadline date is not specified in the announcement, the agency has sole discretion on setting the deadline and jobs may close without notice. It is the applicant's responsibility to thoroughly read and understand the deadline requirements and capacity limits as outlined by the agency.

Applicants are responsible for checking their email and logging into their PoliceApp, PublicSafetyApp, FireFighterApp or EmployementApp account to monitor for emails, scheduling and process updates.
Login & Apply Now