Bloomfield - Entry Level Police Officer
---
Job Prerequisites
---
Job Announcement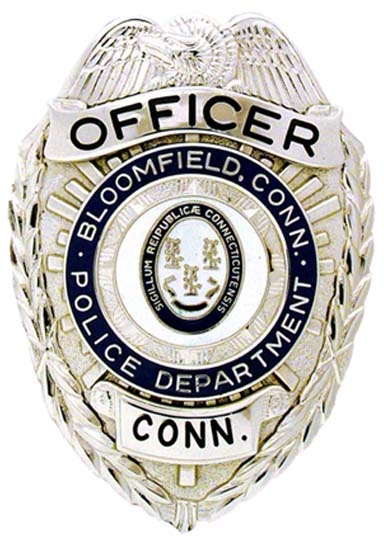 TOWN OF BLOOMFIELD POLICE DEPARTMENT
NOW ACCEPTING APPLICATIONS FOR
EMPLOYMENT OPPORTUNITIES FOR
ENTRY LEVEL POLICE OFFICERS
SALARY: $78,885
Under regular supervision, performs basic law enforcement duties in accordance with the mission, goals and objectives of the Bloomfield Police Department and in compliance with governing federal, state and local laws. The Town of Bloomfield offers a rewarding career in a progressive and professional environment. The Town provides liberal benefits, including paid vacation, paid holidays, group life insurance, major medical and dental insurance and sick leave.
Residency/Military Veterans Requirement: None. Residents of Bloomfield & Military veterans will receive additional points on final passing scores. Residents will be required to submit proof of residency along with the Residency Form and Military veterans will be required to submit a DD-214 along with the Veterans Points Form prior to the oral panel examination. Please visit our website for the appropriate forms – www.bloomfieldct.org.
OTHER QUALIFICATIONS:
Criminal Convictions: Candidates must have no criminal record revealing any conviction, under federal or state law, of any felony, or any conviction of any Class A or Class B misdemeanor, or of any crime in any other jurisdiction that would if committed in this state, constitute a Class A or Class B misdemeanor, or any act which would constitute perjury or false statements. All other criminal records will be evaluated during the background investigation.
The Town of Bloomfield Police Department
The Town of Bloomfield is located in Central Connecticut in the Capitol Region of the State just 10 minutes north of the State capitol, bordering the City of Hartford. The Town encompasses 26.4 square miles with an estimated population of 20,000; our community is a wonderful blend of urban and rural and has a diverse population of people from various cultures and backgrounds. The community is supportive of law enforcement and is dedicated to creating a safe environment for our citizens, merchants and visitors. For more information visit www.bloomfieldpolice.org.
MINIMUM QUALIFICATIONS
High School Diploma or GED required
21 Years of age or older at time of appointment
US Citizen
Must have a valid motor vehicle driver's license at the time of appointment
TESTING REQUIREMENTS
Town of Bloomfield is a Connecticut Police Chiefs Association (CPCA) participating department. To be eligible to take the CPCA written examination, qualified candidates will need to:
Register on policeapp.com for the CPCA written exam - minimum of 70% score required
HIRING PROCESS
The hiring of a police officer is a multiple phase process. Generally, it includes the following:
Application via Policeapp.com (online)
CPCA Written Exam (minimum 70% score required)
Physical Assessment (CHIP Test at 40%, must have CHIP card in order to apply to the Town of Bloomfield )
Preliminary Background Check
Oral Interview Panel (minimum 70% score required)
Personal History Questionnaire
Background Investigation – including criminal, driving, employment, military and educational record and other areas.
Interview with the Chief of Police
Polygraph Examination – will include investigation and background areas mentioned above as well as: medical history, financial history, gambling history, criminal activities including illegal use of drugs, illegal sexual activities and subversive, revolutionary or gang involvement activities.
Psychological Evaluation
Physical Exam and Drug Testing
Please note examination dates are subject to change.
HOW TO APPLY
The Town of Bloomfield is accepting applications for anticipated vacancies in 2023 for entry level Police Officers. We will only be accepting applications via www.PoliceApp.com/Bloomfield. This is a rolling application process. There is no deadline to apply. You MUST have received a CPCA written score of at least 70% and must possess a current valid CHIP card at 40th percentile as a prerequisite to apply to the Bloomfield Police Department. For information contact Human Resources Department located in the Town Hall Annex, 800 Bloomfield Avenue, Bloomfield, CT 06002 - 860-769-3544.
Candidates may re-apply. The recruiting process may take up to 6 months to a year. Please note examination dates are subject to change.
Town of Bloomfield is an affirmative action/equal employment opportunity employer. Minorities, women & persons with disabilities are encouraged to apply. Persons with a disability who may need this information in an alternative format or who may need accommodations during the testing procedure should contact Rosa Matias, Interim ADA Coordinator at 860-769-3584 or at rmatias@bloomfieldct.org.
Please direct questions regarding this position to kroberts@bloomfieldct.org
Jobs close at 11:59 PM (Eastern) on the deadline date specified, or when the position capacity has been met, or unless otherwise specified in the announcement. If the deadline date is not specified in the announcement, the agency has sole discretion on setting the deadline and jobs may close without notice. It is the applicant's responsibility to thoroughly read and understand the deadline requirements and capacity limits as outlined by the agency.

Applicants are responsible for checking their email and logging into their PoliceApp, PublicSafetyApp, FireFighterApp or EmployementApp account to monitor for emails, scheduling and process updates.
Login & Apply Now