West Warwick Police Department
---
Current Openings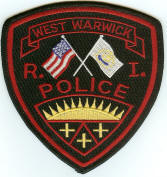 WEST WARWICK POLICE DEPARTMENT
The West Warwick Police Department consists of a compliment of 52 sworn officers supported by a professional staff of 15 civilian employees. The department provides Law Enforcement services to a population of approximately 30,000 residents who reside within 8 square miles.
The West Warwick Police Department is currently commanded by Colonel Ernest Lavigne.
Mission Statement
The primary mission of the police department is crime prevention and the protection of life and property. The laws and police procedures related to them are promulgated by police agencies for the purpose of maintaining order and continuity. The basis for police actions is the law, and the credibility of the law enforcement profession will be measure by its contribution to the welfare of the whole community, its concern for excellence, and by the guidance it provides to its members toward a high level of ethical practice.
Police officers have a sworn obligation to respect and defend the rights guaranteed to the people in the Constitution. In the performance of those duties they may command or prohibit behavior which tends to conflict with the expectations of free people in a free society. Particular attention must be given to ensure the just and impartial application of law.
Positive police interaction, while serving the departments peace keeping mission, must be administered without prejudice; always mindful that in the execution of their duties they act in the best interest of the public.
The goal of police service is to improve the quality of service and at the same time improve the quality of life in the community. Standards of the profession must be elevated to strengthen the public confidence in law enforcement, to encourage officers individually and collectively to appreciate the total responsibilities of their office; and to earn the support and cooperation of the general public.