Warwick Police Department

Colonel
Bradford E. Connor
Address
99 Veterens Memorial Drive
Warwick RI 02886
Phone
4014684200
Website
http://www.warwickpd.org/
---
Current Openings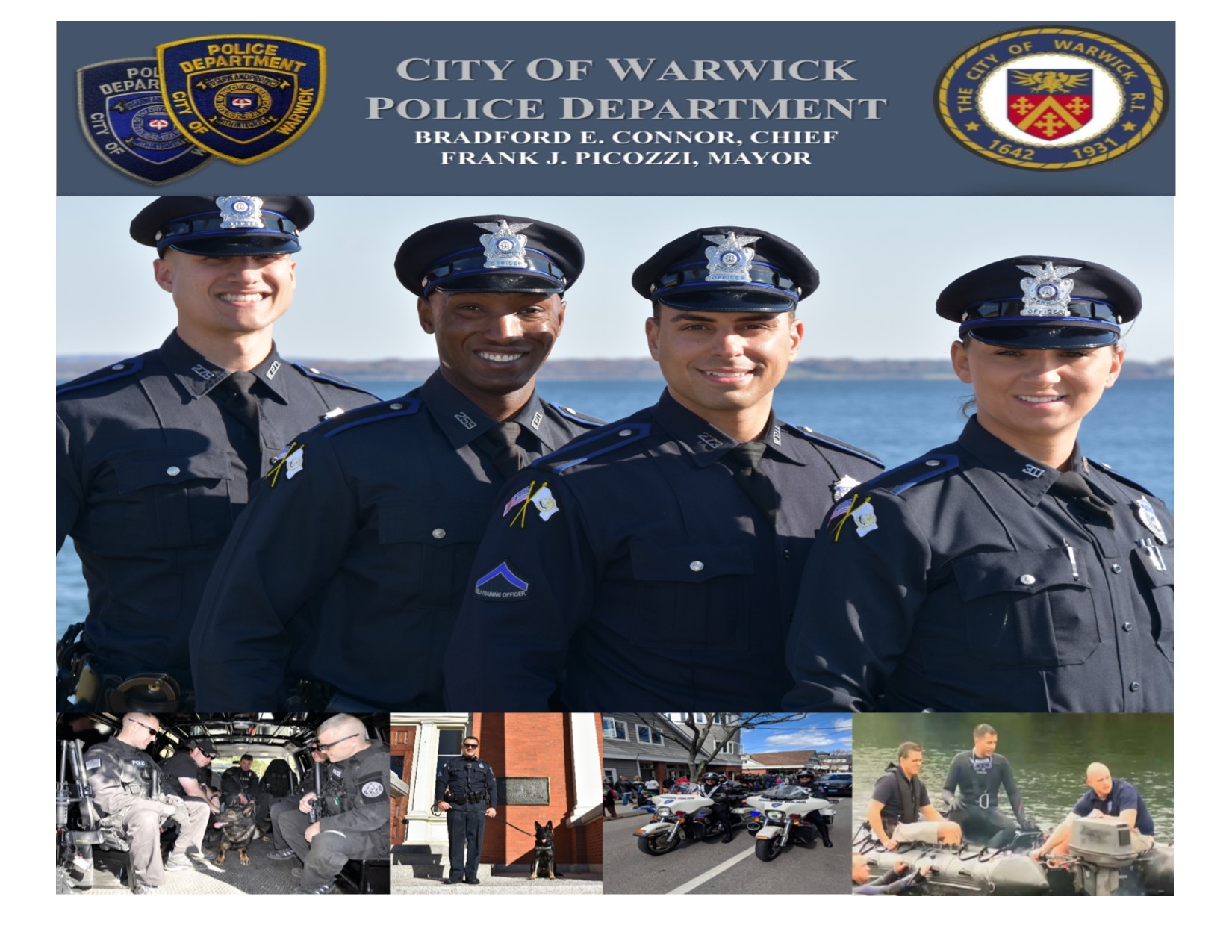 About Us
We are a Nationally Accredited, Community Policing Agency that stresses professionalism, integrity and fairness. The Warwick Police Department is comprised of dedicated, professional police officers that are committed to the safety and security of the residents of the City of Warwick.
The personnel of the Warwick Police Department, both sworn and civilian, are proud to be a part of one of the finest police departments in the United States. Each and every one of our members plays an integral part in the success of our department. Our most important goal is to ensure the safety and well being of the citizens of Warwick.
The men and women of the Warwick Police Department have continued to work in conjunction with our elected officials and citizenry to provide service to the City of Warwick that can be described as nothing less than exemplary. Community participation and involvement has continued to be a cornerstone of our effectiveness in deterring criminal activity within the city, and ensuring that Warwick remains one of the safest cities in the Nation to raise a family. In 2012, the City of Warwick was named the safest major city in Rhode Island. "The safest major city in Rhode Island is Warwick, according to the 2013 edition of City Crime Rankings published from CQ press. CQ press' ranking of 432 cities in the US with a population of 75,000 or greater ranked Warwick at #46 nationally".
About Our Community
Conveniently located in the heart of the Ocean State, Warwick is surrounded by all the wonders of Southern New England. Our unique blend of breathtaking vistas, miles of retail stores, comfortable lodging, premier golf courses, and first-class dining helps to make Warwick a vibrant, popular destination. With more marinas and moorings than any Rhode Island community, 39 miles of spectacular shoreline, and fresh and salt-water beaches, Warwick also offers a relaxing seaside getaway.