Hamden - Entry Level Police Officer
---
Job Prerequisites
---
Job Announcement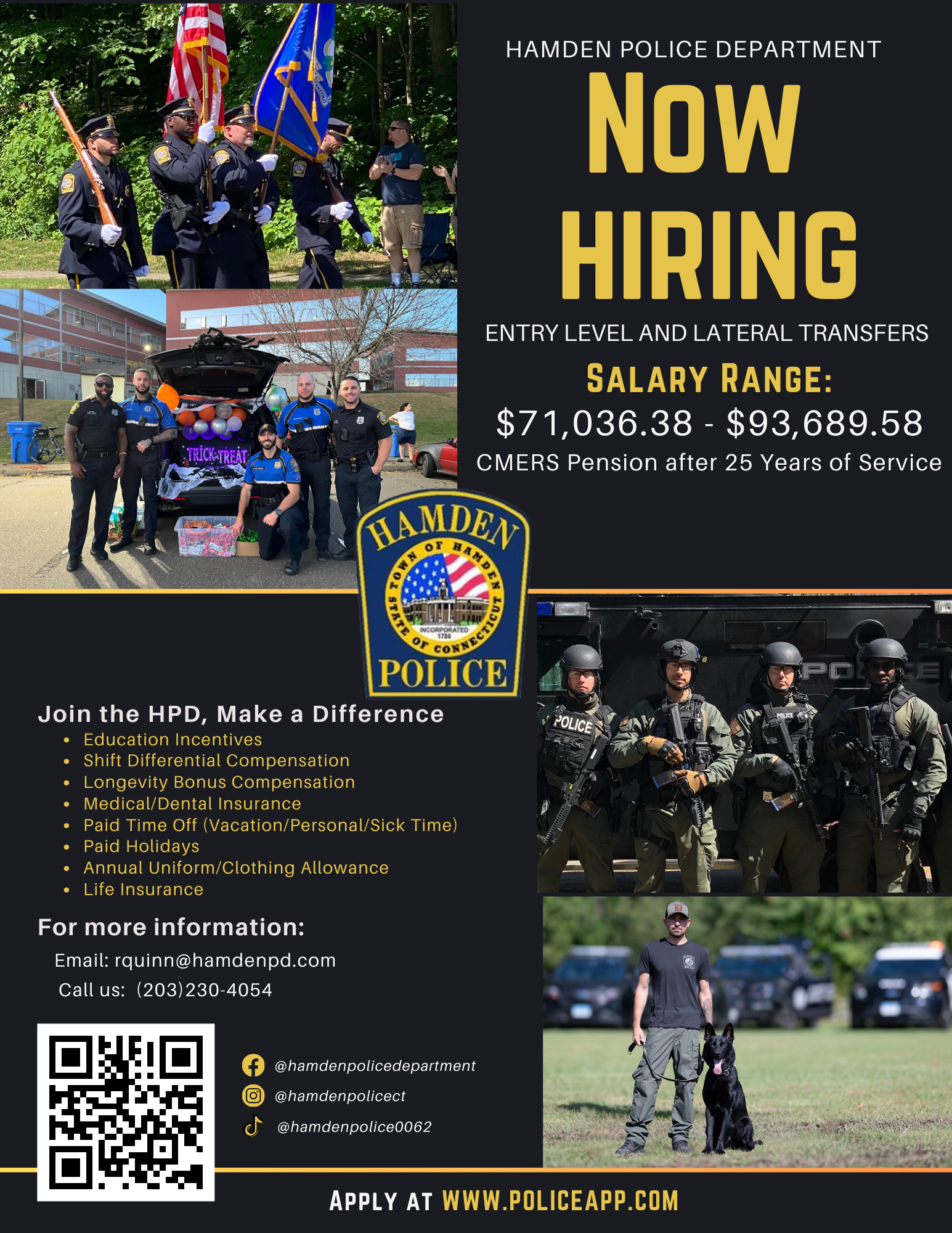 ENTRY LEVEL POLICE OFFICER
The Town of Hamden is seeking qualified candidates for the position of Entry Level Police Officer. All eligible applicants can apply through www.policeapp.com AND fill out a Town of Hamden application, which can be found on the Town of Hamden website.
Job Purpose: This is general duty police work involving responsibility for the protection of life and property; the prevention, detection and investigation of crime; and for maintaining law and order. Assignments are received from superior officers and are carried out in accordance with established police rules and procedures. Police Officers must use their own judgment and act without supervision in meeting emergencies. Work is reviewed through reports, on-the-job inspection and observations of results obtained.
Job Environment: Employees in this class are required to perform their duties under all conditions of weather. Hazards to personal safety arise from both personal, mechanical, and natural sources, and include possible loss of life.
Essential Job Functions: Patrols an assigned area in a cruise car. Continuously checks windows and doors of business establishments and of assigned private homes; investigates any suspicious conditions.
Maintains continuous enforcement of motor vehicle laws, criminal statutes, and local ordinances.
Assists stranded motorists, injured persons, and ill persons. Escorts and guards payroll deliveries.
Gives information concerning street and building locations, routes, bus schedules, etc.
Investigates reports of wanted or missing persons or property.
Brings persons to police station for booking of violations. May fingerprint and process suspects.
Prepares written reports for the Prosecuting Attorney, presenting all of the facts pertaining to a particular crime.
Testifies in court and presents evidence.
Directs traffic at an assigned area or as indicated.
Prepares reports of all activities and complaints.
Reports unsafe and hazardous conditions while on patrol. May be assigned to perform predominantly traffic accident investigations and the conduct of safety programs while detailed to the Traffic Division.
May be assigned to principally perform complaint desk, dispatch and clerical duties at Police Headquarters.
Additional Work Responsibilities:
May conduct or assist in conducting investigations and surveillance.
Appears before special interest groups to speak on various aspects of police work.
Performs related duties as required.
Minimum Qualifications / Applicant Screening Process:
Age: Must be at least Twenty-one (21) years of age.
Education: High School Diploma or GED
License: Applicants must possess and maintain a valid Connecticut driver's license.
Residency Requirement: Candidates must be U.S. citizens and shall reside within the State of Connecticut.
Physical Examination: Candidates must meet departmental physical fitness standards. The candidate must take and pass the department physical agility test.
Drug Testing: Candidates shall be required to submit to a drug test as part of the pre-employment medical examination.
Criminal Background: No applicant will be accepted with any drug related conviction, felony conviction, conviction for any Class A or Class B misdemeanor or any conviction for domestic violence.
Background Investigation: A thorough background and character investigation will be conducted for the specific purpose of obtaining pertinent data for the Hamden Police Department to consider in determining suitability for employment as a Police Officer. Eligible candidates will be requested to authorize a release of personal information including, but not limited to, educational, financial/credit agencies and institutions, medical history, employment history, legal complaints, arrests, or convictions and motor vehicle history.
Non-Smokers Preferred
Required Knowledge, Skills, and Abilities: Must be able to satisfactorily complete the Basic Police Officer's Training Academy as established by the Police Officer Standards & Training Council, and maintain certification during course of employment. Ability to be trained in modern methods of first aid; ability to be trained in all aspects of entry-level Police work; ability to observe situations analytically and objectively and to record the situation and information gathered in a complete and clear manner; ability to react quickly and calmly in emergencies; ability to establish and maintain effective working relationships with associates and the public; ability to deal firmly but courteously with the public; ability to learn modern methods of crime detection and prevention; ability to understand and execute written and oral instructions; ability to prepare clear and comprehensive reports; ability to learn the effective use and care of firearms and other self-protective devices; and sufficient physical strength and ability to defend oneself or to subdue violent persons.
Salary - Entry Level Police Officer Salary Range of $71,036.38 - $93,689.58 (After 3.5 Years)
Retirement - CMERS pension after 5 years of service.
Other Benefits - Education Incentives, Shift Differential & Longevity Bonus Compensation. - Medical / Dental Insurance. - Paid Time Off (Vacation, Personal, and Sick). - Paid Holidays, Annual Uniform / Clothing Allowance, & Life Insurance.
Tentative dates:
Written Test – November 26, 2023
Oral Examination – TBD
Applications are available on the Town of Hamden website www.hamden.com.
Completed applications and resumes can be sent to:
Human Resources Department
Hamden Government Center
2750 Dixwell Avenue
Hamden, CT 06518
or brought in person to the Human Resources Department.
This recruitment will close on Friday, December 1, 2023, at 4:00 pm.
Please direct questions regarding this position to Hr@hamden.com
Jobs close at 11:59 PM (Eastern) on the deadline date specified, or when the position capacity has been met, or unless otherwise specified in the announcement. If the deadline date is not specified in the announcement, the agency has sole discretion on setting the deadline and jobs may close without notice. It is the applicant's responsibility to thoroughly read and understand the deadline requirements and capacity limits as outlined by the agency.

Applicants are responsible for checking their email and logging into their PoliceApp, PublicSafetyApp, FireFighterApp or EmployementApp account to monitor for emails, scheduling and process updates.
Login & Apply Now