Derry - Police Officer
---
Job Announcement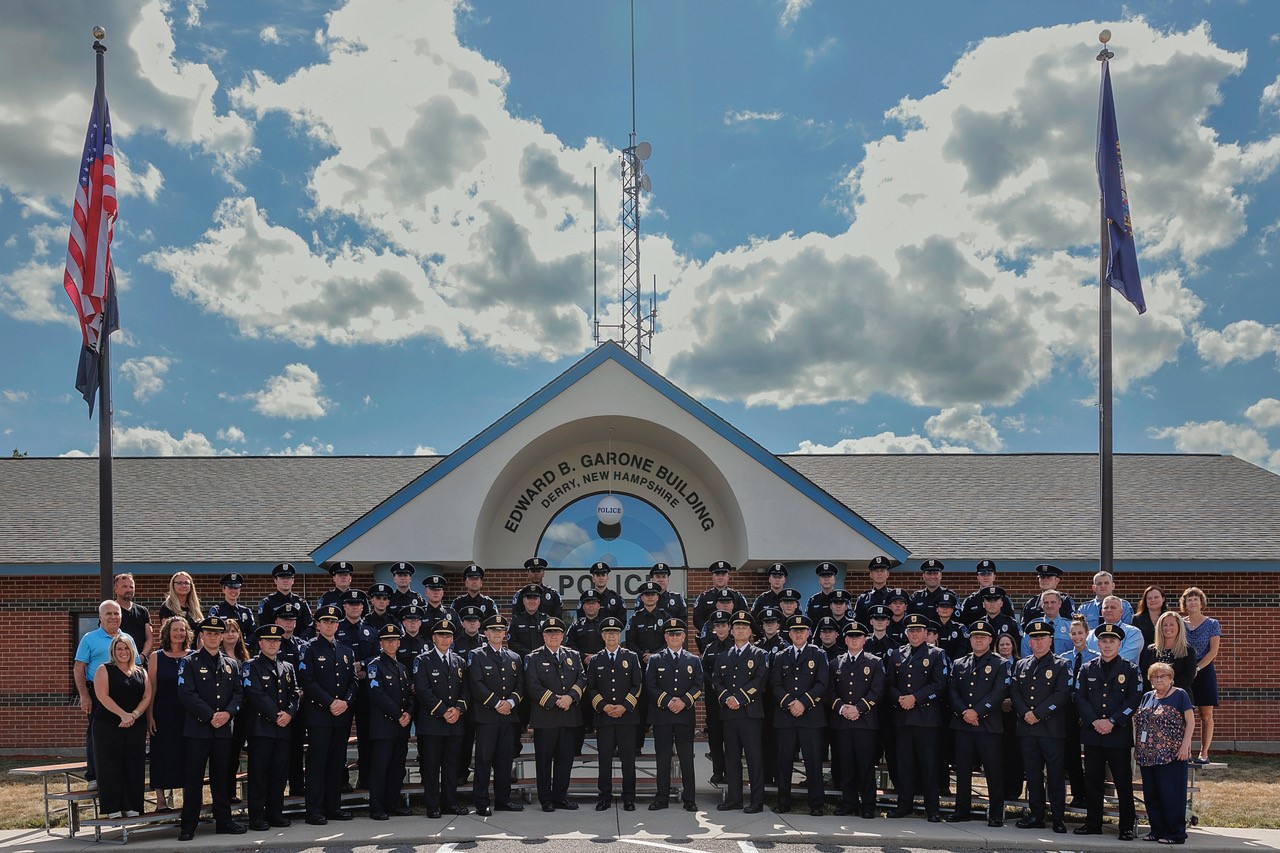 ---
The Derry Police Department is now accepting applications for New AND Certified Police Officers. Our hiring process begins with an open testing opportunity consisting of a physical agility test and a written examination. Testing is conducted on an on-going basis. Dates, times, and locations of testing will be determined by when applications are received.
Current Full-Time NH Certified Police Officers are encouraged to apply and are exempt from the written exam.
---
TESTING PROCESS:
The complete testing process consists of a physical agility test, written examination, oral board interview, one-on-one background interview, polygraph examination, background investigation, psychological examination, medical examination with drug test, and an interview with the Chief of Police.
SCORING:
A candidate must successfully pass all phases of testing to receive appointment consideration. All phases will be on a PASS/FAIL basis; the minimum passing score for the written exam is 70%.
MINIMUM QUALIFICATIONS AT TIME OF APPOINTMENT:
Minimum age: 21 years of age at time of hire.
Education: High school graduate or New Hampshire approved high school equivalent certificate.
Citizenship: Must be a citizen of the United States.
Possession of a valid motor vehicle operator's license.
Eyesight must be corrected to 20/20. Normal color vision and depth perception are also required.
Normal hearing in both ears. (Corrected or Uncorrected)
No person shall be hired who has any prohibited tattoo(s). A prohibited tattoo is any tattoo above the collarbone, on the face, or on the hand(s). No person shall be hired who has any inappropriate or offensive tattoo(s) as defined by Derry Police Department policy. No person shall be hired who has visible tattoo(s), branding(s), or intentional scaring that cannot be covered with a department authorized Class B or C uniform shirt, other approved coverings, or proper business attire.
STARTING PAY:
The hourly starting pay is between $26.56 and $32.71, depending on years of experience.
EXPERIENCE:
No experience is required, and you'll receive full pay while you participate in our extensive training program.
SCHEDULE:
Shift work, 4 days on / 2 days off
PROCEDURES:
Complete the Derry Police Department Application for Employment on-line through PoliceApp.com and upload copy of the Derry Police Department Waiver of Liability (Downloadable form under the apply now button)
CONTACT:
Inquiries about the hiring process should be directed to Lieutenant David Michaud at (603) 845-5645 between 8:30 am and 5:00 pm, Monday through Friday.
The Derry Police Department is an Equal Opportunity Employer
Please direct questions regarding this position to dpdadminservices@derrynh.org
Jobs close at 11:59 PM (Eastern) on the deadline date specified, or when the position capacity has been met, or unless otherwise specified in the announcement. If the deadline date is not specified in the announcement, the agency has sole discretion on setting the deadline and jobs may close without notice. It is the applicant's responsibility to thoroughly read and understand the deadline requirements and capacity limits as outlined by the agency.

Applicants are responsible for checking their email and logging into their PoliceApp, PublicSafetyApp, FireFighterApp or EmployementApp account to monitor for emails, scheduling and process updates.
Login & Apply Now