Coventry - Entry Level Police Officer
---
Job Prerequisites
---
Job Announcement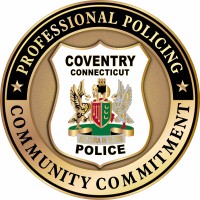 TOWN OF COVENTRY, CONNECTICUT
COVENTRY POLICE OFFICER
Applicant Hiring Standards
February, 13, 2023

Thank you for your interest in a position as a Coventry Police Officer. The Coventry Police Department is a nationally accredited agency by the Commission on Accreditation for Law Enforcement Agencies (CALEA). Regionally, we participate in the Metro Traffic Services team for accident reconstruction and traffic enforcement, along with the Capitol Region Emergency Services Team. The Coventry Police Department is focused on community policing and problem solving. Located in northeastern CT, Coventry has approximately 12,500 residents and is minutes from the UCONN campus.
Salary range is $73,778 to $86,195 plus a comprehensive benefits package. Recruits are paid approx. $57,400 during the police academy and receive a raise upon successful completion. Benefits include paid vacations, holiday pay, health and dental insurance, disability insurance, sick leave, pension, tuition reimbursement, and the ability to earn compensatory time and earned days. Patrol officers also work ten hour shifts with approximately twenty-six weekends off per year.
The minimum qualifications for a Police applicant are:
· Must be a U.S. Citizen
· Must be 21 years of age at time of appointment (you may be 20 years old during the application and testing process)
· Must be a High School Graduate or have passed a General Education Development Test
· Possess a valid motor vehicle operator's license
· No felony or Class A or B misdemeanor convictions or any act which would constitute perjury or false statement
· Must meet department physical fitness standards at the 40th percentile level through CHIP, Inc. prior to taking oral examination.
Testing shall consist of:
· A passing score of 70% or better on the Connecticut Chiefs of Police (CPCA) Entry Level written exam
· An oral interview panel consisting of at least one POST certified panelist
· Meet all POST physical fitness requirements. (Successful candidates will be required to meet the standards at the 40% level during the selection process and at the 50% level upon completion of the police academy)
· Successful completion of background investigation
· Successful completion of polygraph examination
· Successful completion of psychological examination
· Successful completion of drug screening
· Successful completion of physical examination
Questions on the polygraph examination will be drawn from areas such as (but not limited to) employment, education, motor vehicle history and criminal activity.
The application and examination process may take up to three months. If you are selected to move on after the initial testing, the background investigation and additional testing may take another two to three months. You will be notified in writing of each step of the selection process as well as the final results of your participation in the process. All communication with candidates will be done through your PoliceApp account. Please read and confirm all emails and ensure you keep your contact information updated.
Application deadline is 11:59 PM on April 1, 2023
We wish you the best of luck during this process.


The Town of Coventry and the Coventry Police Department is an equal opportunity employer. Women, minorities and military veterans are encouraged to apply.
Please direct questions regarding this position to recruitment@coventryct.org
Jobs close at 11:59 PM (Eastern) on the deadline date specified, or when the position capacity has been met, or unless otherwise specified in the announcement. If the deadline date is not specified in the announcement, the agency has sole discretion on setting the deadline and jobs may close without notice. It is the applicant's responsibility to thoroughly read and understand the deadline requirements and capacity limits as outlined by the agency.

Applicants are responsible for checking their email and logging into their PoliceApp, PublicSafetyApp, FireFighterApp or EmployementApp account to monitor for emails, scheduling and process updates.
Login & Apply Now