Edison Police Department
---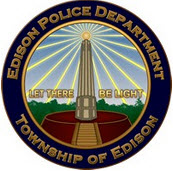 EDISON POLICE DEPARTMENT
ABOUT OUR TOWNSHIP
The Birth Place of the Technological Revolution
One of America's Best Places to Live according to Money Magazine, the Safest Place for Women in the country according to SELF Magazine and one of the Best Places to Grow Up in the nation according to U.S. News & World Report.
This 32-square-mile township of more than 100,000 residents is the home of Thomas Alva Edison's famed Menlo Park laboratory where the incandescent light bulb was perfected and sound was first recorded.
Our high achieving public schools, central location, vibrant business environment and diverse community make Edison a great place to live, work and raise a family.
ABOUT OUR DEPARTMENT
The Edison Division of Police is the Law Enforcement branch of the Edison Department of Public Safety. The Division is commanded by a Chief of Police with one Deputy Chief. Captains oversee the Administration, Patrol, Investigation, Records and Communications Bureaus. Reporting directly to the Chief is the Internal Affairs Unit.
Chief of Police Thomas Bryan
Administration Bureau - Captain Howard Askelson
Budget & Procurement Unit
CompStat
Technology Unit
Training Unit
Payroll Function
Personnel Function
Legal Function
Information Technology Unit
Vehicle Maintenence Unit
Community Resources Unit
Division Computer Network and Servers
Patrol Bureau - Captain Kenneth Schreck
Patrol Day Squads
Patrol Afternoon Squads
Patrol Midnight Squads
Traffic Control
School Crossing Guards
Fatal Accident Investigation Unit
Criminal Investigation Bureau - Captain Greg Formica
Criminal Investigative Section
Detective Unit
Evidence Unit
Juvenile Unit
Special Enforcement Section
Special Operations Group
School Resource Officer
Central Records Bureau - Captain Sal Filannino
Records Storage & Data Entry Function
Permits & Licenses Function
Discovery Function
Supply Function
Communications Bureau - Captain Joseph Shannon
9-1-1 Dispatch Center
Township Emergency Radio System
SWAT Team
Entry Teams
Dedicated Marksmen / Snipers