Southington - Certified Police Officer
---
Job Prerequisites
---
CHIP Participating
---
Job Announcement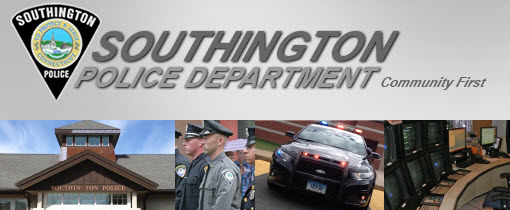 SOUTHINGTON CT POLICE DEPARTMENT
NOW HIRING
**INTERVIEWS WILL BE HELD ON DECEMBER 28, 2022
POLICE OFFICER, (CT) CERTIFIED
"We are an equal opportunity employer"
Application Process:
Job Prerequisites:
Certified Police Officer with the State of Connecticut.
Connecticut Police Chiefs Association (CPCA) Certified Police Officers Written Examination. CPCA Website: https://www.cpcanet.org/
The Southington Police Department is an Equal Opportunity Employer
Application Process:
This process will proceed at a rapid pace. The Southington Police Department will determine the hiring schedule and applicants will be required to be available during the selection process. We look forward to interacting with you during our selection process. All communications and notifications will be done by e-mail through PoliceApp.com. You should check your account regularly.
Applications can be submitted by clicking the APPLY NOW icon above. Please download and print the SPD Recruitment Packet and read it prior to submitting your application.
The Southington Police Mission:
The mission of the Southington Police Department is to provide quality public service based on high ethical and professional standards. This mission is to be attained through a sincere commitment to public service. It includes preserving the peace and order of the Town through conflict management and enforcement of criminal laws and quasi-criminal laws by officers who are committed to the rule of law and have a unique authority to investigate, arrest, search, seize, and use reasonable and necessary force. It includes being both responsive and responsible to the public we serve.
Our mission is public service, and we are proud of it.
About Us:
The Southington Police Department was organized in 1936. It is governed by a Board of Police Commissioners, consisting of five civilian members. It is commanded by the Chief of Police, Deputy Chief of Police, three Lieutenants, five Master Sergeants, nine Sergeants, and seven Detectives. It is currently comprised of seventy sworn regular and twelve sworn supernumerary officers plus twenty-two civilian personnel, including two Animal Control Officers. Southington is geographically located almost in the center of the State of Connecticut. The Department is primarily responsible for the public safety of the approximately 43,000 residents of the community and patrolling the roads within our 36.5 square miles.
A Brief History:
Edward F. Geary was appointed the first police chief in Southington in 1927 and remained head of the department through June 1954. He was succeeded by Robert Triano who retired April 1, 1979. Chief Triano remained as a consultant for three months. In August of 1979, Joseph Sollack was appointed chief. Chief Sollack retired in February of 1983 and Phillip D'Agostino became Southington's fourth chief. Chief D'Agostino retired in April of 1991 and William B. Perry was appointed Acting Chief. In August of 1991, William B. Perry formally became Southington's fifth chief of police. On March 2nd, 2002, Chief William B. Perry retired. On October 10th, 2002, John F. Daly was promoted to Chief to become Southington's sixth Chief of Police.
Before the Town of Southington officially sponsored a police force in 1927, the department was managed by seven elected constables. The elected constables in the 1925-26 fiscal year were Thomas Murphy, Timothy J. Foley, Graham R. Thompson, Sampson Smith, Lewis W. Bowers, Randall B. Fish and Daniel Douglass.
Salary
Starting Salary $69,693
Top Step Collective Bargaining Contract Salary (end of contract) 2024- $95,393.00
The Town of Southington participates in the State of Connecticut CMERS Program (25-year pension plan).
Benefit package to include Health Care Plan, Longevity Pay, Sick Time, Vacation and Personal Time and 13 paid holidays (not included in the salary figure shown).
Minimum Qualifications:
Certified Connecticut Police Officer or Certification from another state with the ability to get a comparative certification.
Graduation from an accredited high school or possession of a G.E.D.
Be at least 21 years of age.
Be a citizen of the United States of America.
Possess a valid motor vehicle operator's license and/or the ability to get a State of Connecticut operator's license.
No conviction by a court of any felony, any class A or class B misdemeanor or have committed any act which would constitute perjury or false statement.
Have not committed any Southington Police Department Automatic Employment Disqualifiers.
Testing Requirements:
Candidates must have a passing score of at least 70% on a Connecticut Police Chiefs Association (CPCA) Certified Police Officers written examination in order to submit their application.
The CPCA test score must be within six months of your application date.
Upcoming CPCA Testing:
Hiring Process:
The selection process will include, at minimum, a detailed review of your application packet, and the successful completion of the Department's selection process which includes but may not be limited to the following:
CPCA Written Examination
Background Packet Review
Assessment Center
Detailed Background Investigation
Polygraph Examination
Psychological Exam
Medical Exam
Chief of Police Interview
Please direct questions regarding this position to kegan@southingtonpolice.org
Jobs close at 11:59 PM (Eastern) on the deadline date specified, or when the position capacity has been met, or unless otherwise specified in the announcement. If the deadline date is not specified in the announcement, the agency has sole discretion on setting the deadline and jobs may close without notice. It is the applicant's responsibility to thoroughly read and understand the deadline requirements and capacity limits as outlined by the agency.

Applicants are responsible for checking their email and logging into their PoliceApp, PublicSafetyApp, FireFighterApp or EmployementApp account to monitor for emails, scheduling and process updates.
Login & Apply Now