Seymour Police Department

---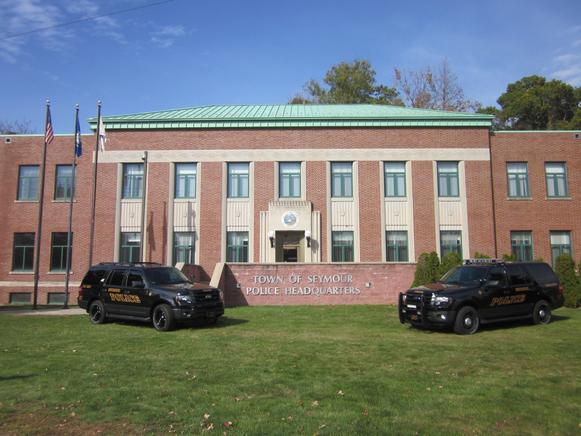 SEYMOUR POLICE DEPARTMENT
MISSION STATEMENT
The Seymour Police Department, in partnership with our community, provides impartial, ethical, and professional law enforcement service and protection. We strive to maintain the trust and confidence of our citizens while working to improve the quality of life.
VISION STATEMENT
Reduction of crime and fear of crime
Maximum efficiency
Improved public confidence
Personal and professional growth for employees
POLICING VALUES
Maintain service as our primary goal, while vigorously pursuing those who commit crimes.
Ensure that community responsiveness and the prevention of crime shall always be the hallmark of this organization.
Strive to maintain the highest levels of integrity and professionalism in all our members and activities.
Provide courteous police service with respect for the rights and dignity of all the people we serve.
Involve the community in all policing activities that directly affect the quality of community life.
Structure police service in a manner as to reinforce the strengths of the towns neighborhoods.
Manage our resources carefully and effectively.
Remain committed to a shared and open relationship of involvement with all segments of our community.
ABOUT SEYMOUR, CT
Seymour stepped into the 21st century with a confident attitude and a list of new accomplishments. One of America's first industrial villages, this appealing town has gone through its share of ups and downs since incorporating in 1850.
Categorized as a dying mill town in the 1980s, this diverse community successfully reversed that trend and became known as a prosperous and viable center for business and light industry, as well as a community that places importance on the education of its children and the quality of life of its residents.
Route 67 connects Bethany, through Seymour to Oxford, Southbury and more. Klarides Shopping Plaza, Stop and Shop plaza, Tri-Town Plaza and Seybridge Plaza contain many different types of shops and eating establishments. There are more than 35 restaurants ranging from fast food franchises to an elegant banquet facility for business and social gatherings to a restaurant that caters to boaters. Route 34 connects New Haven and Derby to Seymour, Oxford, Monroe, and Newtown and beyond. Route 115 connects Seymour to Ansonia. Many outstanding retail and service businesses are found along its route. Seymour's convenient access to numerous surrounding towns and to the Route 8 corridor, which connects the Valley to Fairfield County and the shore, make an each business commute. Centrally located, the town is served by Metro-North commuter rail and by Connecticut transit buses to and from New Haven. The wide variety of housing and well-planned zoning enables the town to enjoy a thriving business sector without sacrificing its rural community atmosphere.
The Seymour Police Department is an Equal Opportunity Employer.