Norwalk Police Department
Chief
Thomas E. Kulhawik
Address
One Monroe Street
Norwalk CT 06854
Phone
203-854-3000
Fax
203-854-9215
Website
http://www.norwalkpd.com/
---
Current Openings
---
Welcome,
Thank you for your interest in becoming a police officer with the Norwalk Police Department. Norwalk is located in Fairfield County, 37 miles Northeast of New York City and the Police Department is responsible for protecting and serving a community of eighty four thousand residents, making it the 6th largest City in Connecticut. The Police Department offers a dynamic opportunity for individuals seeking a career in Law Enforcement.
The Department is made up of 179 certified police officers; more then 100 of those officers are assigned to the patrol division. In addition to the patrol division the Norwalk Police Department has the following special units: K-9, Mountain Bike, Motorcycle, Traffic, Tactical, Marine, SCUBA, Intelligence, Crisis Negotiations, Professional Standards, Community Policing, Crime Scene and Investigative Services Unit. This allows officers the opportunity to be exposed to, or directly experience a broad range of what is available in a progressive accredited law enforcement agency.
We are supported by a diverse and vibrant community and employ 38 civilian employees who help us carry out our vital mission of protecting and serving.
The department has a strong focus on community policing and working with many civic groups to provide a safe environment for our residents. The department is an equal opportunity employer and encourages diversity in our work force.
On behalf of the Norwalk Police Department, welcome and good luck! We look forward to having you join our team.
Sincerely,
Chief Thomas E. Kulhawik
The Norwalk Police Deparartment is accepting applications for the position of Police Officer. Qualified applicants are encouraged to apply.
Minimum Qualifications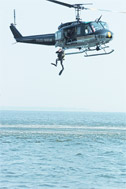 Must be a U.S. Citizen
High School Diploma or equivalency
Age 21 at time of appointment
Valid Motor Vehicle Operator's License (Upon Hiring)
No felony convictions
No Class A or Class B misdemeanor convictions or any act of perjury or false statement
Must meet or exceed the "Cooper Institute" 40% Physical Performance Standard in the four basic tests of the pre-employment Physical Ability Assessment. (C.H.I.P. Card) *(Entry Level Positions Only)
Vision -Corrected 20/30 - Uncorrected 20/100
No tattoos on or above the neck, or on hands