New Holland Police Department

---

ABOUT US
The New Holland Police Department has been serving the community since 1926. We currently serve Earl Township and New Holland Borough in beautiful north east Lancaster county on a 24/7 basis. Our community has a total population of over 12,000 residents within 25 square miles. Historically the community has had a strong mix of agriculture and commercial businesses and interests. We are fortunate to maintain that vibrant combination today. We are also the home of the ELANCO School district office, Garden Spot High School and Middle School, as well as New Holland Elementary school. We also have numerous Mennonite schools and over a dozen "one-room" schoolhouses.
Our Department currently is made up of 14 sworn officers (13 full-time) and two civilians (1 full time Administrative Assistant). We also have volunteers, Volunteers In Police, or VIP's that assist our operation. We share space with the New Holland Borough office at 436 E. Main St. (Rt. 23) in New Holland.
Team And Crusiers
We are dispatched by the Lancaster County-Wide Communications Center. Members of the Department also participate in various regional task forces, including:
SERT- The Lancaster county Special Emergency Response Team, officers trained to handle barricaded gunmen, high risk warrants, hostage incidents, etc.,
SCTF/Strike Team- South Central Task Force made up of officers from South Central Pennsylvania that respond to major incidents requiring specially trained officers, such as crowd control, disturbances, or large planned events,
DTF- The Lancaster county Drug Task Force,
Lancaster County Crash Team- specially trained officers that handle serious vehicle crash investigations,
Lancaster County DUI Task Force- a collaborative effort to make our roads safer by taking impaired drivers off of them,
Lancaster County Major Crime Unit- team effort created to assist member agencies with major crimes, homicide investigations,
OUR MISSION
The mission of the New Holland Police Department is to provide a professional and unbiased response to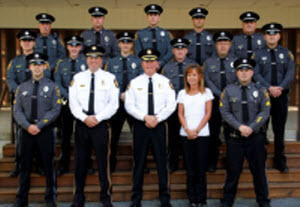 the needs of the community with respect for the dignity of all whom we protect.
It is the Department's goal to establish a partnership with the citizens in achieving a "Safe and Sound Community through excellence in public service" with the highest regard for constitutional, civil and human rights.