Cape May County Police Academy
---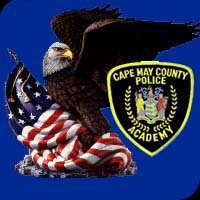 Alternate Route Program
The Cape May County Chiefs of Police Association and the Cape May County Police Academy sponsors the Alternate Route Training Program for police candidates. This program enables individuals to enroll in the Basic Course for Police Officers without first being hired by a police agency. Our residential based academy allows Alternate Route Candidates to live and train right alongside regular police recruits.
Graduates of this program will qualify for New Jersey Police Training Commission Certification making them more marketable to police agencies. A large percentage of our graduates are hired by police agencies within one year of their graduation from this program. Some are hired while still in the academy.
What is the Alternate Route Program?
The Alternate Route Training Program allows a civilian to enter the police academy without first being hired by a police agency. The Alternate Route Candidate trains alongside the regular police recruit and is treated as their equal during training. The Alternate Route Candidate is responsible for all costs associated with their training, presently about $3,500.00. Although this might seem like a large sum, the fee includes meals and lodging, drug testing, all required equipment related to firearms, vehicle operations, and unarmed defense training, including an issued laptop computer and a computer lab for use by the recruits. In addition to this fee, recruits will be responsible for the costs of Medical and Psychological examinations and all required uniforms and personal items for lodging.
The program is twenty-two weeks in length and requires the recruit to reside Monday through Friday at the Training Facility. Course of study includes History of Law Enforcement, The Criminal Justice System, Stress, Ethics, Community Policing, Criminal Law, Arrest, Search and Seizure, Use of Force, Communications, Vehicle Operations, Emergency Medical Care, Firearms, Defensive Tactics, Chemical Agents, Patrol Concepts, Traffic Enforcement, Criminal Investigation, and Physical Fitness.
Additionally the recruit receives certification in CPR, AED, and Red Cross Community Water Rescue. The program also includes boxing, simulation training (live fire) and survival shooting.