Leonia Police Department
---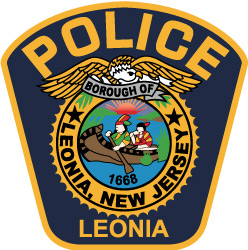 ABOUT OUR DEPARTMENT:
The Leonia Police Department is a full service progressive department existing to serve the greater Leonia community.
Staffed in a manner that reflects the diversity of the community we serve there are, among our ranks, officers of various ethnic and cultural backgrounds allowing us to provide services in English, Spanish and Korean. Operations are conducted 24/7 with a staff of 21 police officers and 4 civilians.
The men and women who compose the department are amongst the best in law enforcement: every Leonia Police Officer has, as a minimum, a four year college degree and some have earned graduate certificates and masters degrees. Every year of service for a Leonia Police Officer is marked by new and continuing training in the latest laws, techniques and tactics allowing us to provide Leonia with the best possible service. Many Leonia Officers are State certified instructors and are able to conduct training for police officers throughout the State.

Among the many functions of the Leonia Police Department the primary objective is to partner with the community to provide for a safe environment in which all Leonians may live, work and raise their families. This is accomplished through a constant police presence, enforcement of the laws, investigation of crimes and the constant regulation of traffic.