Keene Police Department

---
Current Openings

The mission of the Keene Police Department is to protect life and property and to maintain order within the City while assuring fair and respectful treatment of everyone.
Department Statement of Values
Professionalism
We will obey and enforce the laws of the State of New Hampshire with courage, diligence, and discretion.
Objectivity
We will act with fairness at all times and allow the facts, not preconceptions, to determine the outcome of events.
Loyalty
We will support, in words and in actions, our community, our Department, and each other.
Integrity
We will not lie, cheat, or steal, nor tolerate those who do. [USMA]
Courtesy
We will treat people with as much dignity and courtesy as each situation will allow.
Enthusiasm
We will approach every task we perform with a sense of service, energy, and a commitment to excellence.
Department Creed
As members of the Keene Police Department, we commit ourselves to being capable, caring people doing important and challenging work for the benefit of all citizens within our community; to respect, care about, and support each other; to enjoy our work and take pride in our accomplishments; to be disciplined and reliable; to keep our perspective and sense of humor; to balance our personal and professional lives; to value the contributions of the community in the decisions we make; to maintain a positive attitude; to cultivate our most important values, professionalism, objectivity, loyalty, integrity, courtesy, and enthusiasm; to hold ourselves accountable to these expectations; and to do nothing which would dishonor our Department or ourselves.
Department Vision
The Keene Police Department strives to anticipate the future needs of the community and develop effective and efficient responses to those needs. The Department will seek new techniques, training, and equipment to optimize public safety.
Law Enforcement Code of Ethics
As a law enforcement officer, my fundamental duty is to serve mankind; to safeguard lives and property; to protect the innocent against deception, the weak against oppression or intimidation, the peaceful against violence or disorder; and to respect the Constitutional rights of all people to liberty, equality, and justice.
I will keep my private life unsullied as an example to all; maintain courageous calm in the face of danger, scorn, or ridicule; develop self-restraint; and be constantly mindful of the welfare of others. Honest in thought and deed in my personal and official life, I will be exemplary in obeying the laws of the land and the regulations of my Department. Whatever I see or hear of a confidential nature, or that is confided to me in an official capacity, will be kept ever secret unless revelation is necessary in the performance of my duty.
I will never act officiously or permit personal feelings, prejudices, animosities, or friendships to influence my decisions. With no compromise for crime and with relentless prosecution of criminals, I will enforce the law courteously and appropriately without fear or favor, malice or ill will, never employing unnecessary force, and never accepting gratuities.
I recognize the badge of my office as a symbol of public faith, and I accept it as a public trust to be held so long as I am true to the ethics of police service. I will constantly strive to achieve these objectives and ideals, dedicating myself before God to my chosen profession - law enforcement.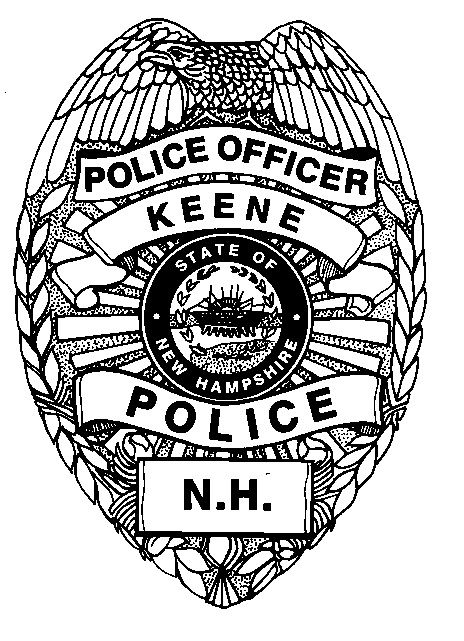 Code of Ethics for Law Enforcement Support Staff
As an employee of the City of Keene and a member of the Keene Police Department, I am dedicated to the concepts of effective and democratic local government by responsible elected officials and believe that professional performance is essential to the achievement of this objective.
I affirm the dignity and worth of the services rendered by government and maintain a constructive, creative, and practical attitude toward local government affairs and a sense of responsibility as a trusted public employee.
I am dedicated to the highest ideals of honor and integrity in all public and personal relationships in order that I may merit the respect and confidence of elected officials, of other officials and employees, and of the public.
I recognize that the chief function of local government at all times is to serve the best interests of all people.
I recognize that elected representatives of the people are entitled to the credit for the establishment of local government policies; responsibility for policy execution rests with me.
I make it a duty continually to improve my professional ability and to develop the competence of associates in the performance of my duties.
It is my responsibility to keep the community informed on local government affairs, encourage communication between the citizens and all local government officers, emphasize friendly and courteous service to the public, and seek to improve the quality and image of public service.
I seek no favor and believe that personal aggrandizement or profit secured by confidential information or by misuse of public time is dishonest.