Greenwich Police Department
---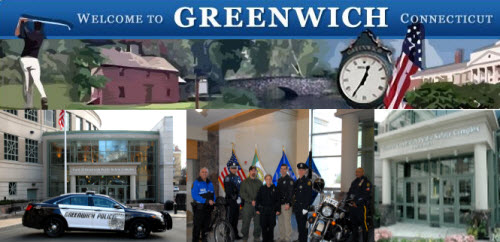 ABOUT OUR DEPARTMENT
The Greenwich Police Department is under the direction and control of the First Selectman in his role as Police Commissioner. Operational leadership and direction lies with the Chief of Police who is charged with the protection of life and property, the preservation of public peace, the prevention and detection of crime, the apprehension of offenders and the enforcement of state and local laws and ordinances, as well as a myriad of calls for service that the Police Department handles on a daily basis. In the fiscal year 2008-09, the Greenwich Police responded to 45,960 calls for service.
Our community policing initiatives continued for the third year with three geographic sectors. Internal reorganization united the three Community Impact Officers (CIOs) under one Sergeant dedicated to our community policing program. The Sergeant reports to the Captain of Operations as we seek to combine their efforts to enhance the overall impact on neighborhood issues. The CIO's serve as the Department's liaisons with the CAPP (Community and Police Partnership) groups who serve to facilitate communications between citizens and the Police Department, as well as other Town departments/agencies.
In 2009 the department completed two Citizen Police Academy programs. One class was a 12 week program designed for adult participants whereas the second was held exclusively for high school age participants.
The Department continues to apply for federal and state grants in support of a variety of special programs including traffic enforcement, DWI enforcement, narcotics investigations, drug education programs, domestic violence, and community policing. The overall operational efficiency of the agency has improved; there have been increases in productivity, and a reduction in certain categories of crime.
We will continue with our community policing initiatives, including conducting citizen surveys, in order to provide the best possible police services.
OUR MISSION
The Greenwich Police Department, acting without fear or favor, will strive to provide superior law enforcement and public services in cooperation with its community. The Department will actively promote an environment that encourages independent judgment and allows its employees to attain the highest levels of professional achievement.