Waterbury - Entry Level Police Officer
---
Job Prerequisites
---
CHIP Participating
---
Job Announcement

CITY OF WATERBURY
HUMAN RESOURCES DEPARTMENT
ENTRY LEVEL POLICE OFFICER
YEARLY SALARY:
$70,078.66 - $88,574.31 (Current as of 7/1/2023)
$72,181.02 - $91,231.53 (7/1/2024)
$75,790.07 - $95,793.11 (7/1/2025)
Up to $105,156.60 at Top Step with Included 13 Paid Holidays, Shift Differential, Annual Uniform Allowance & Annual Higher Education Stipend, if Applicable! (7/1/2025)
*Not Including Additional Overtime & Extra Duty (

$84.45/hr

as of 7/1/2025)!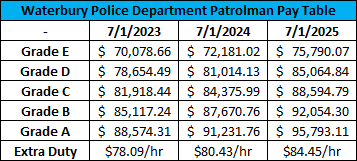 LAST DAY FOR FILING APPLICATIONS
CLOSING: FRIDAY, DECEMBER 1, 2023
Applicants must apply online visiting WWW.POLICEAPP.COM/WATERBURYCT
Additional information can be found on the City of Waterbury website www.waterburyct.org.
C.H.I.P. Card is Not Required to Apply
All correspondence and information regarding this Police Officer employment announcement and applications process will occur through email and postings on www.PoliceApp.com/waterburyct. Please be sure to check your email and the PoliceApp.com website on a regular basis to ensure receipt of crucial information.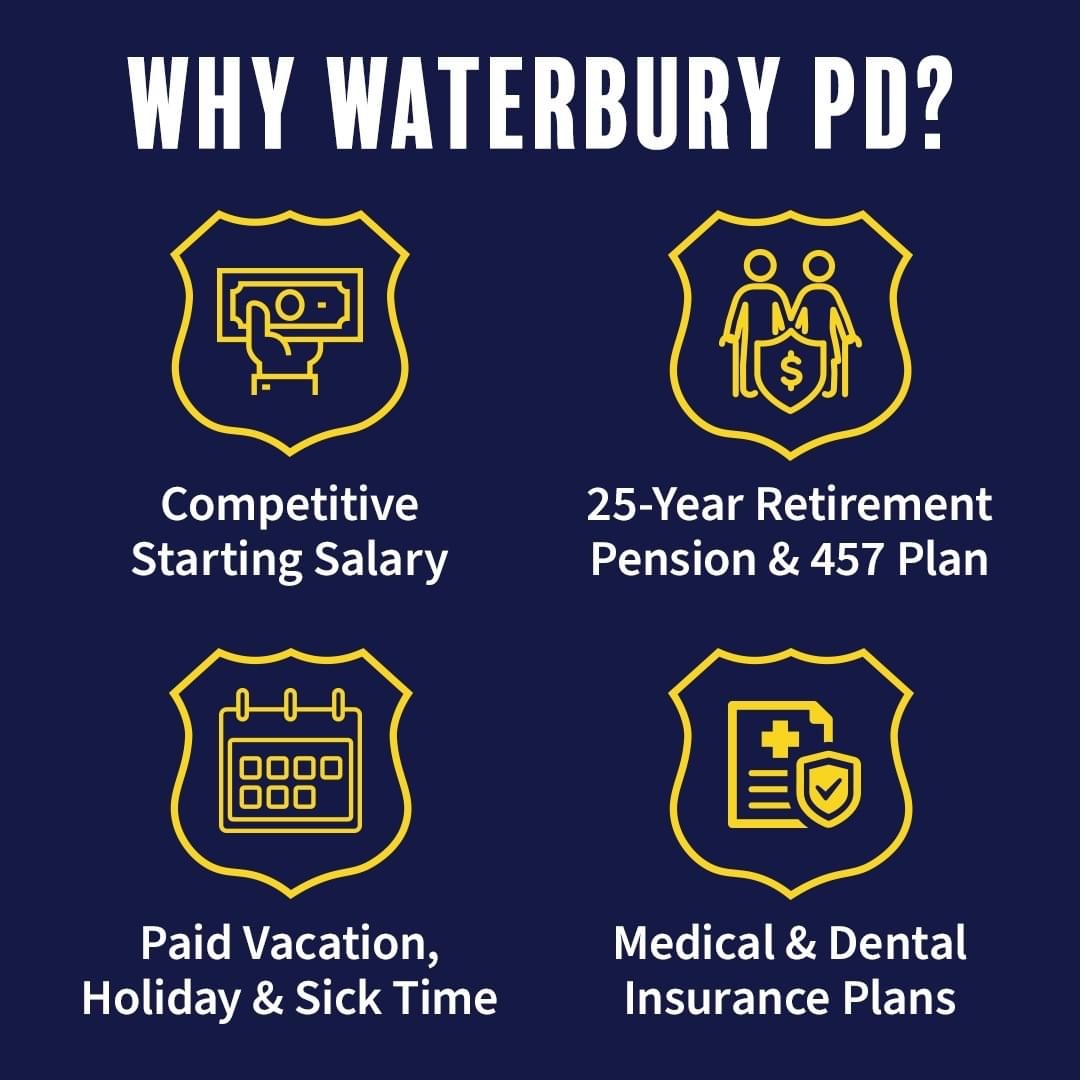 FRINGE BENEFITS:
Choose from Available Health Insurance Plans (Employee Contributions Vary)

Prescription Drug Rider, Dental Plan, Group Life Insurance for Individual, and Retirement Plan

Paid Holidays, Paid Vacation Days, Paid Personal Days, and Paid Sick Days
ADDITIONAL BENEFITS:

EXAMPLES OF WORK: (Illustrative only)
Enforces the ordinances of the City and all relevant State and Federal laws; Patrols assigned areas or beats; Checks doors and windows and examines premises of unoccupied buildings or residences to detect any suspicious conditions; Investigates suspicious conditions and complaints and makes arrests of persons who violate laws and ordinances; Accompanies prisoners to headquarters, jail or court and appears in court; Directs traffic and either arrests or gives violation tickets to those who break traffic laws; Checks automobile parking in restricted areas and given violation tickets when necessary; Works at desk and answers telephone, maintains records, prepares reports, sends and receives messages on computers and performs other clerical and administrative duties including but not limited to arrest reports; Books prisoners and sees that they have medical care if needed; Looks up police records of prisoners; Performs traffic posts at major incidents not limited to fires, crime scenes and accidents. Attends fires or accidents in assigned area as directed giving all possible assistance and preparing necessary reports; Maintains order in crowds and attends parades, funerals or other public gatherings; Watches for stolen cars and wanted or missing persons; Performs preliminary investigations and enforces City and State laws pertaining to juvenile offenders; Answers criminal complaints and takes necessary corrective action; Give advice on laws, ordinances and general information to the public; Operates motorcycle, bicycle, or patrol wagon as required; Takes photographs of minor incidents and scenes of crime; Senior patrol officers may act as Police Sergeant in their absence as directed; Enforces parking meter ordinances; Collects from meters and makes and issues peddlers' licenses as required.
In order to be considered, you must meet the following criteria:
Possession of a High School Diploma or G.E.D. (Must submit a copy with Application)

Be a Citizen of the United States.

Good Moral Character and Habits. (Criminal Background Process will be done)

Must have a Valid Motor Vehicle License with a Good Driving History

Must be at least Twenty-One (21) Years of Age or Older.

Must meet all requirements as indicated in the State of CT Police Officer Standards and Training Council Job Description

Individuals Appointed Shall be Required to Serve a Working Probationary Period.
Applications MUST be completed at www.policeapp.com/waterburyct
Paper Applications WILL NOT be Accepted.
APPLICATION PROCESS:
Register & Pass the CPCA Entry Level Police Officer Exam (60% Passing)

Submit Policeapp.com Online Application

Pass Physical Agility Test (Waterbury Agility or CHIP Test Accepted at 40%)

Pass Background Investigation

Pass Polygraph Examination

Pass Psychological Examination

Pass Medical Examination & Drug Screening

Pass Oral Board

Accept Job Offer

Begin Police Academy
THE CITY OF WATERBURY IS AN EQUAL OPPORTUNITY EMPLOYER.
Appeal Process: An applicant may appeal notice of not meeting the minimum qualifications (Civil Service Rules and Regulations, Section 3741, Subsection B, Article 9) to the Civil Service Commission within seven (7) days of the date on such notice. Please notify the Civil Service Office of a change in address. Notification will be mailed to the address written on your application.
EEOP Utilization Report is available upon request.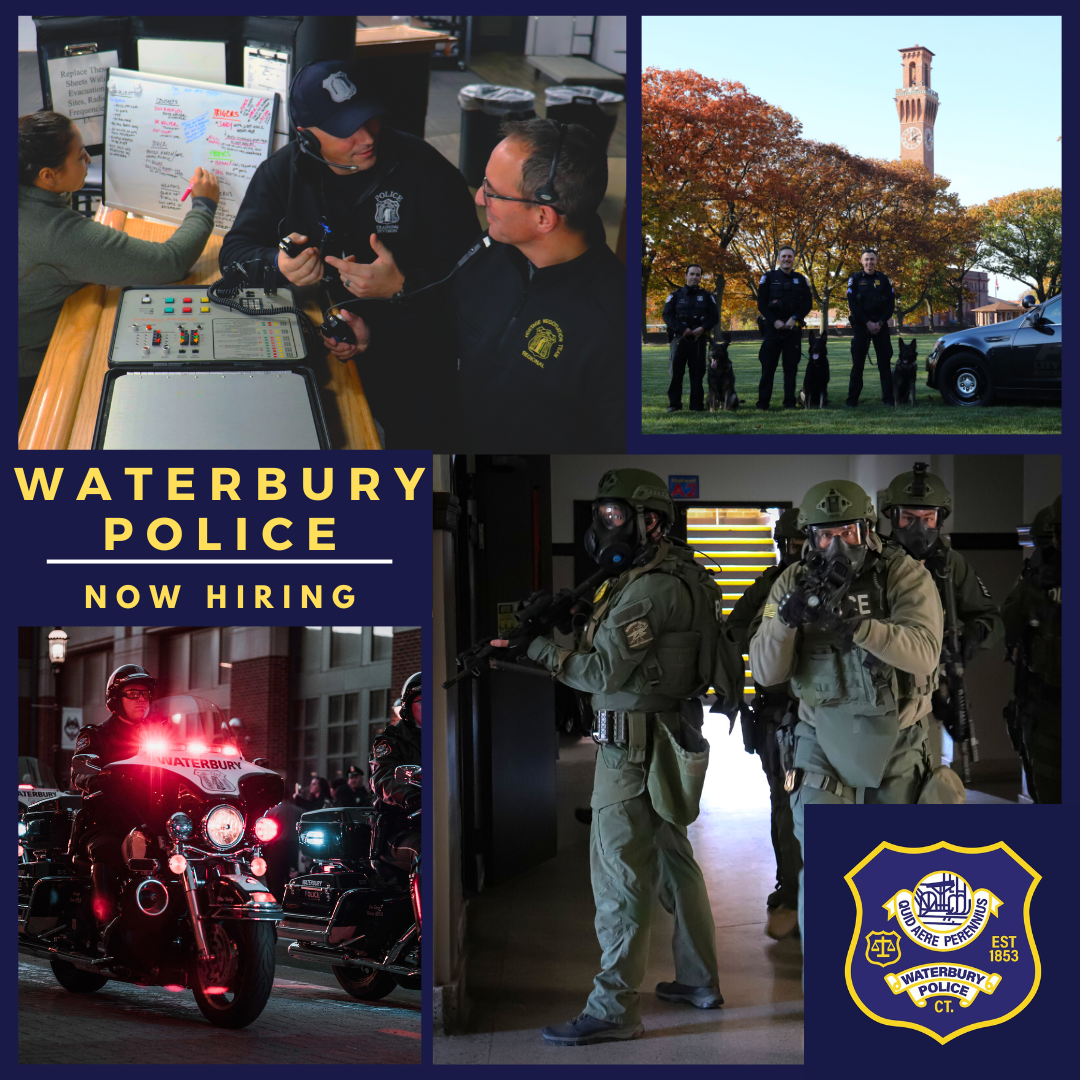 Please direct questions regarding this position to clamb@waterburyct.org
Jobs close at 11:59 PM (Eastern) on the deadline date specified, or when the position capacity has been met, or unless otherwise specified in the announcement. If the deadline date is not specified in the announcement, the agency has sole discretion on setting the deadline and jobs may close without notice. It is the applicant's responsibility to thoroughly read and understand the deadline requirements and capacity limits as outlined by the agency.

Applicants are responsible for checking their email and logging into their PoliceApp, PublicSafetyApp, FireFighterApp or EmployementApp account to monitor for emails, scheduling and process updates.
Login & Apply Now