North Kingstown - Entry Level Police Officer
---
Job Announcement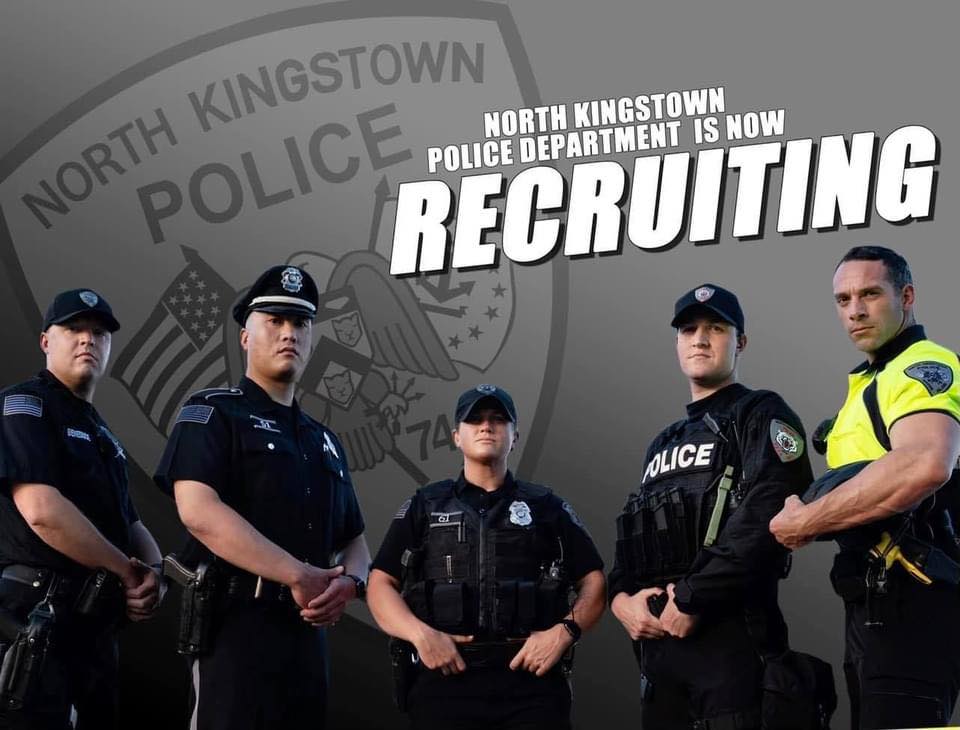 EMPLOYMENT OPPORTUNITY
Town of North Kingstown – Patrol Officer
The North Kingstown Police Department is an Equal Opportunity Employer
Women and Minorities are Strongly Encouraged to Apply
The North Kingstown Police Department is embarking on a recruitment drive to identify potential candidates for hire as probationary full-time police officers. The names of successful candidates may be considered eligible to fulfill the vacancies. Information regarding applications can be located online at www.Policeapp.com.
Starting January 16, 2023, the North Kingstown Police Department will be accepting applications at all times. The application period will be continuous and open until all positions are filled. The physical and written exam will be administered by POST-Certified facilitators Fit2Serve. Oral boards will be conducted quarterly, and scheduling/notifications will be made via e-mail.
Minimum Eligibility Qualifications:
Must be a citizen of the United States.
Must be at least twenty-one (21) years of age at the start of the police academy.
Must not have any prior criminal convictions.
Must have a high school diploma or GED.
Must possess a valid motor vehicle operator's (driver's) license.
Must successfully pass a written examination, physical agility test, psychological & medical examinations.
Must successfully pass an extensive background check.
Rhode Island, in-state lateral police transfers will be accepted upon successful completion of an accelerated process.
In-State, Rhode Island Police Lateral Transfer Process:
Any active Rhode Island police officer or recently retired Rhode Island police officer may apply to the accelerated application process. All applicants must have successfully graduated from the Rhode Island Municipal Police Training Academy. All active and retired police officers must either be in good standing or have been considered as such upon separation from employment. The following criteria will need to be met in order to be considered for employment by the North Kingstown Police Department:
• Up to date resume.
• Successful completion of a Command staff interview(s).
• Successful completion of a background investigation.
• Successful completion of a psychological examination.
• Successful completion of a medical examination.
• Drug screening.
• Rhode Island Municipal Police Training Academy (RIMPTA) and Police Officer Standard and Training (POST) approval.

By applying to this accelerated in-state lateral hiring process, the applicant acknowledges and accepts the potential for modifications or amendments to this process. The Chief of Police holds the explicit right to modify or terminate the accelerated, in-state hiring process at any time without cause. All applicants who meet the criteria within this section must complete the application issued by policeapp.com. After doing so, all applicants must contact the Training and Recruitment Office through email. The applicant must state their intentions and then submit a resume which outlines their professional work history and education. All applicants who meet the criteria within this section will be exempt from the physical agility, written examination, and first round of interviews. All correspondence for this section can be sent to the department's Training and Recruitment Office, at Recruitment@northkingstown.org. Any questions regarding this process can be directed to Officer Raymond Ho at 401 294-3316 extension 8204 or Officer Jason Beneduce at 401 294-3316 extension 8240.
Job Description:
The general description of duties of a North Kingstown police officer includes, but is not limited to: patrol operations, traffic enforcement, criminal investigations, community policing activities, and community caretaking functions. Police Officers patrol assigned areas primarily in single officer police vehicles and interact with citizens on both dispatched and self-initiated calls for service. Police Officers are first responders for incidents and emergency responses and may be required to establish incident command system protocols during a response to a major incident or unusual occurrence. The ability to interact with citizens, maintain ethical standards, and multi-task are critical for police officers to display and maintain.
About Our Department:
The North Kingstown Police Department is currently staffed by 55 sworn personnel officers of various ranks and the Chief of Police. Our police patrols are divided into four squads of eight patrol officers and two supervisors, consisting of a Sergeant and Lieutenant. The patrol officers work one of two 12-hour shifts, starting at 7 a.m. to 7 p.m. or 7 p.m. to 7 a.m. Two squads are assigned to each shift, providing 24-hour 7-day a week of coverage to the Town of North Kingstown. Additionally, one patrol officer is assigned as a School Resource Officer to the North Kingstown High School. The remaining police personnel are assigned to administrative positions or the Detective Division. The Detective Division consisting of 6 detectives, and two supervisors consisting of a Detective Captain Commander and Detective Lieutenant. The prosecution office is staffed by a Detective Sergeant and a civilian secretary. Civilian support staff includes four full-time dispatchers, three secretaries, one clerk and one custodian.
Salary & Benefits:
Employee benefits include a starting salary of $58,765. Upon completion of three years, Officers will earn a salary of $80,360 with additional benefits of paid vacation, holidays, sick days, annual clothing allowance, longevity pay, health insurance, and retirement pay. Benefit information is determined through a collective bargaining agreement between the Town of North Kingstown and IBPO Local 473 and is subject to change.
Selection process will entail the following phases:
1. Application submission via www.policeapp.com
2. Physical Agility and Written Examination - scheduled through Fit2Serve
3. Interviews
4. Comprehensive Background Investigation
5. Medical Screening
6. Psychological Examination
Failure to provide/submit any of the required listed information by the applicant may disqualify the candidate from any further consideration by the North Kingstown Police Department. Applicants who have questions regarding this process may contact the Training and Recruitment office via e-mail: Recruitment@northkingstown.org .
EOA
Please direct questions regarding this position to Recruitment@northkingstown.org
Jobs close at 11:59 PM (Eastern) on the deadline date specified, or when the position capacity has been met, or unless otherwise specified in the announcement. If the deadline date is not specified in the announcement, the agency has sole discretion on setting the deadline and jobs may close without notice. It is the applicant's responsibility to thoroughly read and understand the deadline requirements and capacity limits as outlined by the agency.

Applicants are responsible for checking their email and logging into their PoliceApp, PublicSafetyApp, FireFighterApp or EmployementApp account to monitor for emails, scheduling and process updates.
Login & Apply Now