New Milford - Entry Level Police Officer
This job is currently closed. Please check our
Current Jobs
.
Job Overview

| | |
| --- | --- |
| Department | New Milford Police Department |
| Type | Entry Level, Certified |
| Job Title | Entry Level Police Officer |
| Salary | $53,652.91 - $77,372.25 |
| Registration Fee | $39.00 |
| Location | New Milford, CT |



---
Job Prerequisites
---
Job Announcement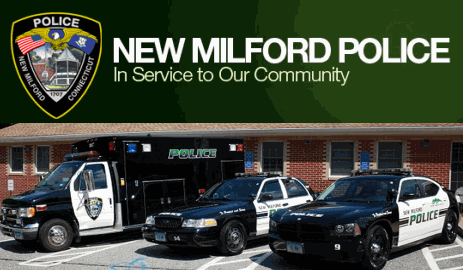 TOWN OF NEW MILFORD, CONNECTICUT
POLICE OFFICER
APPLICANT HIRING STANDARDS
The Town of New Milford would like to thank you for your interest in employment with our Police Department. We are very dedicated in our objective to hire only the most qualified individuals through a strong commitment to our hiring standards. Below is a list of specific guidelines we follow when reviewing applicant backgrounds. The information listed does not constitute all applicable hiring standards of this Department.

You are not eligible for employment with the New Milford Police Department if:
You have been convicted of a felony crime or a crime for which you would be required to register per Connecticut state law.
You have been convicted of any Class A or Class B misdemeanor.
You have been convicted of a DWI within three (3) years of your application date; or convicted of two (2) DWIs regardless of the time frame.
You have been arrested/convicted of domestic violence or domestic assault.
You have been dishonorably discharged from any military service.
You have been terminated for cause from a department of local, state or federal government.
You have been asked to resign from a department while under investigation of wrong doing.
Taking or possessing without prescription or experimenting with any of the drugs in the following categories will be disqualifying within two (2) years of the date of the written exam:
Cannabis substances (i.e. marijuana, hashish, hash oil, gange, etc.)
Stimulants or depressants (cocaine, crank, crystal methamphetamine, GHB, ecstasy, etc.)
Steroids (i.e. dianabol)
Taking or possessing without prescription or experimenting with any of the drugs in the following categories will be disqualifying no matter what the time frame: Hallucinogens (i.e. LSD, PCP, peyote, mushrooms, acid, mescaline, etc.)

Narcotics (i.e. heroin, morphine, opium, codeine, methadone, etc.)
Any prescription scheduled class controlled drugs or substance

Other areas of concern include, but are not limited to, the categories listed below:
Employment/military history
Driving history
Financial history
Criminal activity/involvement
Truthfulness/character issues

ENTRY LEVEL HIRING PROCESS
Candidates who pass the written, oral and agility exam, and are given a Conditional Offer of Probationary Employment will be interviewed by a background investigator. The candidate will be questioned without limitations on all of the above areas in a polygraph and psychological examination. Candidates must meet the highest legal and ethical standards. If a candidate has any questions about any of the above information, please speak with a Police Department or Personnel Director's representative. Any omission, falsification, fabrication, lie or misleading statement will automatically result in disqualification from further consideration. The Police Chief reserves the right to reject any eligible candidate who, on the basis of background and character investigation or medical examination, does not appear at the discretion of the Chief of Police to be the most suitable qualified candidate for the position of Police Officer in accordance with provisions of the Town of New Milford Personnel Rules or New Milford Police Department standards. A candidate who fails to appear or is late for any part of the examination process, or does not satisfactorily pass any part of the examination, will be removed from any further consideration. An individual appointed to the position of police officer must satisfactory complete an 18-month probationary period.

The CT Police Chiefs Association (CPCA) is testing December 29, 2017. Candidates must have a score of 80% and up to be able to apply.
REQUIREMENTS
21 years of age, ability to pass extensive background examination, physical/written exams, polygraph, drug screening and physical agility test, possess a valid CT driver's license and be a high school graduate or possess a G.E.D. equivalent.

Applicant should be community relations oriented. Paid benefits include medical, dental and life insurance among others. Salary range up to $77,372.25 subject to collective bargaining:

Starting Officer Salary: $53,652.91*
After 1 year: $58,573.92*
After 3 years: $68,429.13*
After 5 years: $73,200.45*
After 10 years: $77,372.25*

*Subject to collective bargaining
*Certified Officers may be hired at the 3-year step

An agility test will be conducted through CHIP. Candidates must possess a valid C.H.I.P. card prior to the Medical Screening of the Hiring Process.

Applications accepted only through PoliceApp.com. There is a $39 charge to cover processing fees. Women, minorities and POSTC certified officers encouraged to apply. EOE

Application deadline is January 12, 2018 at 4:00PM.

All inquiries should be directed to:

New Milford Personnel Department
10 Main Street
New Milford, CT 06776
-----------------------------------
CT CERTIFIED PROCESS
Current certified CT Police Officers in good standing with POSTC and their current/previous agency or CSP members eligible for comparative compliance in good standing with their agency are to send in a Town of New Milford application directly to the Police Department c/o Deputy Chief's office.

http://newmilford.org/filestorage/3088/3126/Employment_Application_updated_2016_-_Copy.pdf

Application deadline is January 12, 2018 at 4:00PM.
Jobs close at 11:59 PM (Eastern) on the deadline date specified, or when the position capacity has been met, or unless otherwise specified in the announcement. If the deadline date is not specified in the announcement, the agency has sole discretion on setting the deadline and jobs may close without notice. It is the applicant's responsibility to thoroughly read and understand the deadline requirements and capacity limits as outlined by the agency.
×
Get Real-Time Job Alerts!
Join our mailing list to receive up-to-the-minute job alerts, exam notifications and more: