Lafayette - Police Officer
---
Job Announcement

Next Applicant Testing - 01/06/2024
Minimum Requirements:
- Must be US Citizen
- Must possess a valid drivers license
- Must be between the ages 21 and 39 at appointment
- No felony convictions
- High school graduate (G.E.D. shall be considered)
- Must be of good moral character
Job description/General Duties:
As leaders of the community, we will perform our duties with the utmost fairness and respect for all citizens. We will be loyal to our mission and to the community we serve. We will protect and defend the rights of all citizens with dignity, honor, and compassion. We will have the courage to do what is right and to stand against what is wrong, while always applying common sense to the difficult decisions we must make.
Salary & Benefits:

About Our Department:
The City of Lafayette is located in north-central Indiana and represents the largest portion of the Greater Lafayette Area.
Our sister-city, West Lafayette, is the home of Purdue University.
Lafayette enjoys a diverse community that has all the amenities of a large city while still maintaining the small-town feel.
The Lafayette Police Department is well known for advanced on-going training, cutting-edge technology, and effective community policing.
Testing Requirements:
The written test requires a minimum score of 80% to continue in the hiring process.
Physical Fitness Test:
There are 5 physical fitness components that will be measured as a battery of tests. Applicants should understand that these tests will involve periods of physical exertion and that, as with any physical activity, certain risks are inherent. Applicants will be expected to read and sign a Waiver Form.
Minimum Passing Performance:
- Vertical Jump - 16 inches
- One Minute Sit Ups - 29
- 300 Meter Run - 71 Seconds
- Maximum Push Ups - 25
- 1.5 Mile Run - 16 minutes 28 seconds
**The minimum passing performance is the Indiana Law Enforcement Academy's recruit exit standards**
Hiring Process:
- Written Test
- Physical Fitness Test
- Polygraph Exam
- Captain's Board (Panel Interview)
- Background Investigation
- Civil Service Commission (Panel Interview)
- Medical and Psychiatric Evaluation
- Qualification through INPRS
The City of Lafayette Police Department is an equal opportunity employer and is looking to hire a diversified workforce.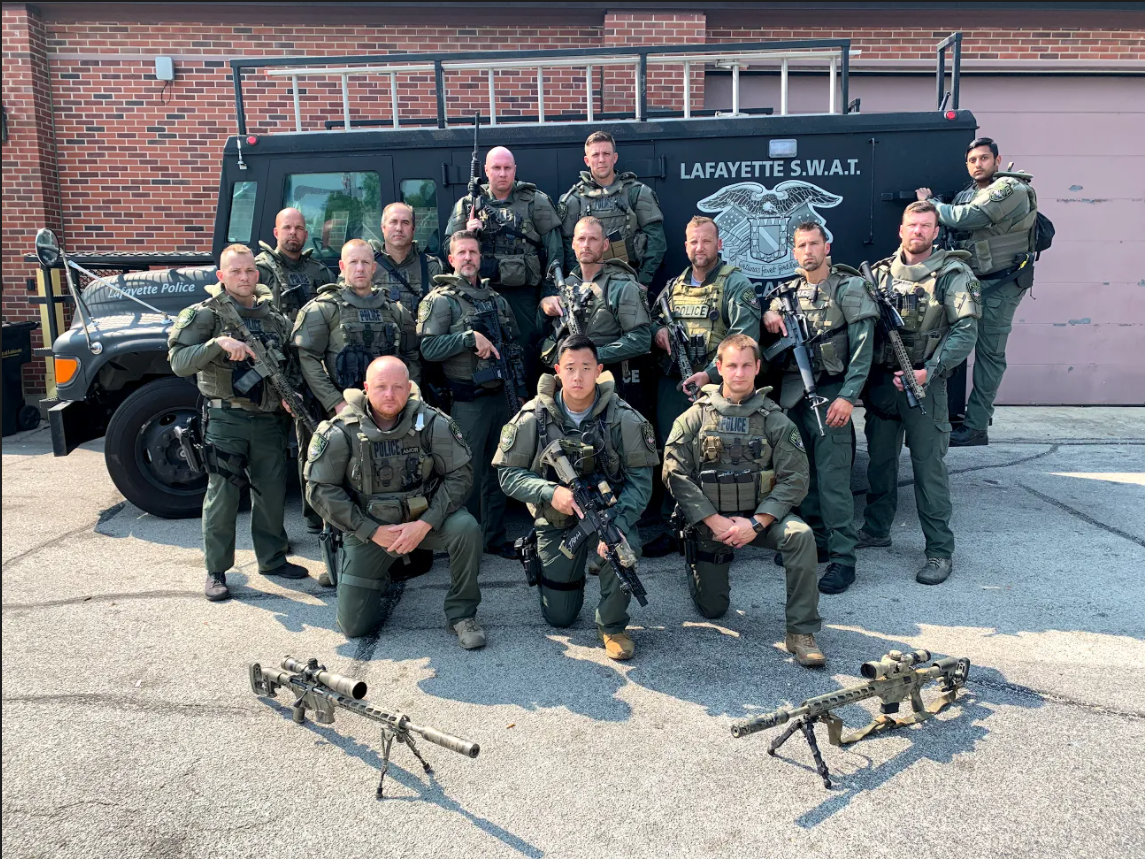 If you have any questions, please email Lieutenant Randy Sherer at rlsherer@lafayette.in.gov.
Please direct questions regarding this position to rlsherer@lafayette.in.gov
Jobs close at 11:59 PM (Eastern) on the deadline date specified, or when the position capacity has been met, or unless otherwise specified in the announcement. If the deadline date is not specified in the announcement, the agency has sole discretion on setting the deadline and jobs may close without notice. It is the applicant's responsibility to thoroughly read and understand the deadline requirements and capacity limits as outlined by the agency.

Applicants are responsible for checking their email and logging into their PoliceApp, PublicSafetyApp, FireFighterApp or EmployementApp account to monitor for emails, scheduling and process updates.
Login & Apply Now