Delmar - Entry Level Police Officer
---
Job Announcement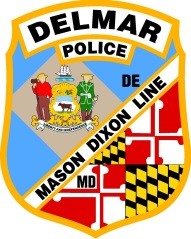 DELMAR POLICE DEPARTMENT
ACCEPTING APPLICATIONS FOR
POLICE OFFICER
The Delmar Police Department is currently accepting application for the position of Police Officer. We are the last BI-State Municipal Police Agency in the United States, providing full service to both the citizens of Delmar Maryland and Delmar Delaware. Benefits to include: Medical, Dental, Vision, 13 Paid Holidays, Paid Vacation & Sick Time, Weapons & All Equipment Provided, Rotating Shifts with Every Other Weekend Off, Take Home Vehicle, State and County Pension Plan (retire at 99% of your base salary!).
Minimum Requirements:
High School Diploma or GED
Valid Drivers License
21 Years of Age (at time of Academy Graduation)
U.S. Citizen or Naturalized Citizen
Vision Correctable to 20/20
No Felony Convictions
Job Description/General Duties:
The Police Officer reports for duty before scheduled tour begins. Examples of duties, functions and responsibilities would include:

1. Maintain issued uniform and all equipment both personal and departmental.
2. Checks Departmental patrol vehicle for operational readiness as well as for contraband/weapons and or unauthorized items.
3. Patrols an assigned area during tour of duty, being constantly on the alert for criminal activity.
4. Responds to motor vehicle violations and any request for assistance from the public.
5. Issues uniform complaint citations as required.
6. Issues warnings (includes ERO) as required.
7. Issues parking citations as required.
8. Utilizes preventative patrol and crime prevention techniques to include recording suspect information, criminal/vehicle activity.
9. During tours of duty, make business checks of those establishments as a preventative approach as well as to instill good public relations.
10. Enforces the ordinances and laws of the Town of Delmar, the States of Delaware, Maryland and federal laws where applicable.
11. Utilizes foot, bicycle and motorized patrol.
12. Performs preventative patrol of businesses and vacant dwellings, during the time that they are unoccupied or not open.
13. Responds to all calls for service dispatched from the PCO.
14. Is responsible for the investigation of the complaints as assigned.
15. Is required to make written or computer data entry reports on criminal activities or traffic related incidents as required by Department policy.
16. Will investigate all traffic related incidents, to include motor vehicle accidents, disabled vehicles and parking related problems. Operates speed measurement devices.
17. Is responsible for the service of all court documents that are scheduled for service in the respective patrol sector.
18. Is responsible for the efficient flow of traffic by manual direction on an as-needed basis.
19. Is required to appear as a witness in all court cases, juvenile proceedings, Attorney General and States Attorney conferences or any other court proceedings as prescribed by summons.
20. Will provide escorts on an on-call basis, including businesses and spousal assaults.
21. Will provide assistance to other officers of this Department and allied agencies as assigned.
22. Is expected to respond accordingly to mentally disturbed persons to include preparing emergency petitions and transportation of same to appropriate facilities.
23. Will respond to and investigate missing person's reports including the completion of the report and subsequent follow-up investigations.
24. Will on an as-needed basis be a part of a special assignment such as parades, outer perimeter security, searches for persons, evidence, etc.
25. Is expected to transport, process, do all supplemental paperwork and relay to various Courts and/or the Detention Centers all subjects arrested.
26. In addition to the above, this employee is required to:
Be at work on time.
Be available for work.
Give a full day's work.
Be positive in response to directions.
Learn present and new jobs.
Adjust to changes.
Get along with others.
Know and follow rules.
Be physically and mentally fit for normal duty.
SALARY
Salary ranges from $46,009.60 to $53,268.80 compensatory to experience.
Please direct questions regarding this position to wade.alexander@cj.state.de.us
Jobs close at 11:59 PM (Eastern) on the deadline date specified, or when the position capacity has been met, or unless otherwise specified in the announcement. If the deadline date is not specified in the announcement, the agency has sole discretion on setting the deadline and jobs may close without notice. It is the applicant's responsibility to thoroughly read and understand the deadline requirements and capacity limits as outlined by the agency.

Applicants are responsible for checking their email and logging into their PoliceApp, PublicSafetyApp, FireFighterApp or EmployementApp account to monitor for emails, scheduling and process updates.
Login & Apply Now