Charlestown - Police Officer
This job is currently closed. Please check our
Current Jobs
.
---
Job Announcement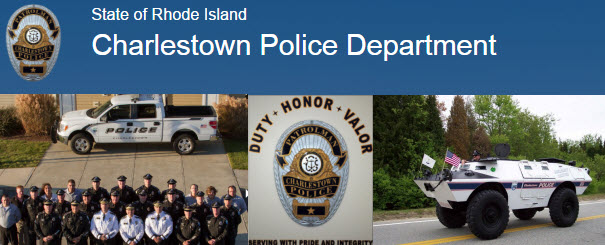 CHARLESTOWN POLICE DEPARTMENT
IS NOW ACCEPTING APPLICATIONS FOR
POLICE OFFICER
Before proceeding you must review the additional documents located under the apply now button above.
Application Booklet
Fitness Assessment
Medical Certificate
Recruitment Flyer

You are required to have the Medical Certificate completed by a Physician in order to participate in the Physical Agility test.
All fees paid are NON-REFUNDABLE
TESTING:
Physical Agility Test:
Saturday, April 22, 2017 - 0800 hrs at Chariho High School, 453 Switch Road, Wood River Junction (Richmond), RI 02894
Dress Code for admittance into the physical agility test is a plain white t-shirt and plain blue gym shorts.
Dress Code for admittance into the written examination will be proper business attire.
THERE ARE NO MAKE UP EXAMS, PLEASE PLAN YOU SCHEDULE ACCORDINGLY!
GENERAL DUTIES
1.Exercise authority consistent with the obligations imposed by the oath of office.
2.Respond to all calls for service, rendering first aid when applicable.
3.Aid citizens requesting assistance or information.
4.Arrest persons for violating the law or those wanted by other law enforcement agencies.
5.Issue traffic citations, enforce motor vehicle laws and parking ordinances.
6.Seize, collect, preserve, transport, photograph, and inventory evidence and property taken into custody.
7.Maintain weapons and equipment in a state of operational readiness.
8.Promptly serve or deliver warrants, summonses, subpoenas, and other official papers.
9.Coordinate efforts with other department employees to ensure that team work leads to the successful attainment of police short and long-term goals and objectives.
10.Maintain certification with assigned equipment.
Perform other duties, within the scope of their employment, as assigned by the division commander or Chief of Police.
SALARY
ABOUT THE TOWN OF CHARLESTOWN & THE POLICE DEPARTMENT
Seasonal Coastal Community where the population triples in the summer months.
This test is to establish a hiring list for anticipated openings prior to the start of the July 2017 Academy
MINIMUM QUALIFICATIONS
21+ years of age
Valid Drivers License
High School Diploma / GED
3 yrs full-time or 5 yrs reserve U.S. Military service (DD214) OR 3 yrs fulltime law enforcement experience OR
60 college credits / certified copy of transcript
Physicians Note to participate in agility test
Application Processing Fee
TESTING REQUIREMENTS
Upon successful passing of the Physical Agility test you will then be invited to sit for the Written Exam immediately following.
Upon successful passing of the Written Exam, you will then be invited to sit for in Interview at a date to be determined.
HIRING PROCESS
Background investigation
Psychological Testing
Physical Agility test at the Police Academy
HOW TO APPLY
Applications will only be accepted through PoliceApp.com
Application period closes March 24, 2017.
Application Processing Fee to be paid directly to PoliceApp.com
Please direct questions regarding this job to pmcmahon@charlestownpolice.org
Jobs close at 11:59 PM (Eastern) on the deadline date specified, or when the position capacity has been met, or unless otherwise specified in the announcement. It is the applicant's responsibility to thoroughly read and understand the deadline requirements and capacity limits as outlined by the agency.