Elyria Police Department
---
Current Openings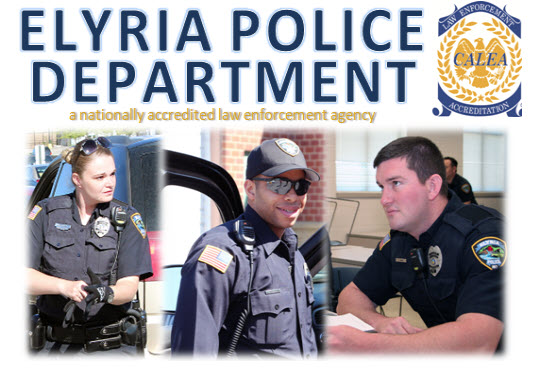 The Elyria Police Department is a nationally accredited law enforcement agency through the prestigious Commission on Accreditation of Law Enforcement Agencies (CALEA), which is considered the gold standard in public safety. The Department received initial accreditation through CALEA in 2017. The Elyria Police Department was the first accredited local law enforcement agency in Lorain County. Only 7% of law enforcement agencies across the nation are accredited.
Mission Statement
Our mission is to provide professional police services for the City of Elyria in partnership with the community.
Vision Statement
The vision of the Elyria Police Department is to be a premier policing agency that enjoys the trust and confidence of the community. We are dedicated to providing professional policing through quality service in protection of our community. We will use a Community Policing philosophy while interacting with the public whom as our partners are worthy of our best service. We will constantly evaluate and improve our efforts to enhance public safety with goals of reducing crime and improving the quality of life of our citizens.
Core Values
Integrity
Respect
Service
Accountability
Integrity
The Elyria Police Department is committed to the highest professional standards. Integrity and truthfulness in all relationships, and ethical conduct is expected and demanded by the members of this organization.
Respect
The Elyria Police Department Personnel will treat all persons in a dignified and courteous manner and demonstrate an understanding of their cultural diversity in dealing with the public in our public and private contacts.
Service
The Elyria Police Department will provide professional quality service.
Accountability
The Elyria Police Department will exhibit the highest standards in our conduct on-duty and off-duty. The goal of all members of the Elyria Police Department is to maintain superior performance with the trust and cooperation of the community.