Easton Police Department

---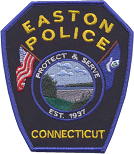 ABOUT US
The Easton Police Department is charged with the enforcement of laws, and the preservation of peace within the Town of Easton.
The Easton Police Department exemplifies what this Town represents – tradition, honor, commitment, strength and innovation. We dedicate ourselves to work in partnership with the community to provide public safety and to improve the quality of life in every neighborhood in the Town of Easton.
The Police Department has a modern police facility including administrative offices, a computerized communication center, and detention area. The police facility has enhanced the operations and professionalism of this agency.
NUMBER 5 EASTON, CT: SAFEST CITIES IN CONNECTICUT
Easton, CT is one of the two smallest cities on our list. It is also situated in Fairfield County. For anyone who wants the community feel of a small town, Easton is a great choice. The town has a rich history and an abundance of farms pepper the area bringing old world charm to the town. With an active police force that works hard on keeping residents safe and involved in the public safety of their community, it's no surprise that this small town is one of the safest ones in the state.