Derry Township Police Department

---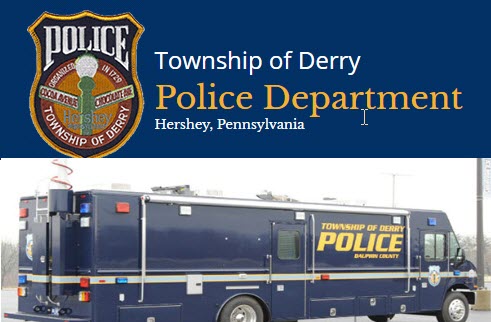 The Derry Township Police Department is a full service municipal law enforcement agency serving the residents and visitors of Derry Township, Dauphin County, Pennsylvania. The Township is a vibrant and growing community of over 26,500 full time residents that hosts an estimated 5,000,000 visitors per year. The Fortune 500 Corporation The Hershey Company along with the venues of the Hershey Entertainment and Resorts Co. and the Penn State Milton S. Hershey Medical Center all call Derry Township home.
The men and women of the Derry Township Police Department are committed to provide leadership, promote individual responsibility, and improve the communities quality of life through crime control and ensuring public safety while serving all people with fairness and respect.
The Derry Township Police Department is accredited by both the Commission on Accreditation of Law Enforcement Agencies (CALEA) and the Pennsylvania Law Enforcement Accreditation Commission (PLEAC).
Mission Statement
The Derry Township Police Department is committed to providing professional and ethical police services in partnership with the community to promote public safety and the well-being of our residents, business owners and guests.
Vision Statement
The Derry Township Police Department will collaborate with the community to improve the quality of life consistent with the following principles:
Respect for human rights
Reduction of crime and disorder
Performance to the highest standards of excellence and continuous evaluation for improvement
Value Statement
The Derry Township Police Department will achieve our mission by:
Adhering to the principal values of Community Policing
Delivering the highest level of service, integrity and professionalism
Preventing criminal activity by vigorously enforcing the law
Providing equal protection of the laws to any person within its jurisdiction
Valuing the members of the department as its greatest and most important assets by exemplifying mutual respect, cooperation and teamwork to best serve the community