Suffield - Certified Police Officer
---
CHIP Participating
---
Job Announcement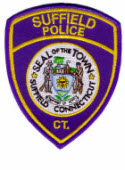 TOWN OF SUFFIELD POLICE DEPARTMENT
IS NOW ACCEPTING APPLICATIONS FOR
CERTIFIED POLICE OFFICERS
JOB OVERVIEW
Department: Suffield Police Department
Type: Certified Police Officer
Salary: $69,014.40 to $90,688.00
3+ years' experience starts $75,940.80
5+ years' experience starts $82,846.40
Location: Suffield, CT
TOWN OF SUFFIELD
The Town of Suffield is located in the northern Connecticut River Valley, bordering Massachusetts, within 16 miles of Hartford and 8 miles of Springfield, Massachusetts. The Town has an approximate population of just under 16,000. The Suffield community is spread over 42.9 square miles and prides itself on its rich history of farming and agricultural work, as well as retail and commercial business. The Town of Suffield Police Department adheres strictly to its mission to safeguard life and property in partnership with the community, and doing so by maintaining honor and integrity, and conducting ourselves with the highest ethical standards. We are a progressive police agency embracing modern police practices and a community policing philosophy to help improve of our level of service. We believe this to be accomplished by working with the community to prevent crime, solve problems, make arrests, and improve the quality of life in our community. Visit www.suffieldct.gov for more information.
SUFFIELD POLICE DEPARTMENT
The Suffield Police Department has 20 sworn members, with 15 serving in Patrol. In addition to our Patrol personnel, we have a School Resource Officer and Detective. We are a "grass roots" Police Department and are dedicated to developing our community relationships and addressing the needs of our residents.
Divisions:
Administrative (Chief, Captain)
Patrol (1 Lieutenant, 4 Sergeants, 11 Patrol Officers)
1 Detective
1 School Resource Officer
Special Assignments:
Detective
School Resource Officer
Regional Tactical Team
Regional Motor Vehicle Accident Reconstruction Team
Regional Crisis Negotiation Team
GENERAL DUTIES
The Town of Suffield seeks qualified applicants for the position of Certified Police Officer. This is a full time (40 hour per week), hourly position in the Police Department. Some of the duties include but are not limited to: patrolling an assigned area on foot or in a motor vehicle to enforce laws and to prevent, detect and investigate complaints, motor vehicle violations and crimes. He or she makes arrests, interviews suspects and witnesses, takes written statements, prepares written reports, assists other town agencies, administers CPR and/or first aid, directs traffic, as well as testifies in court. Additional information about the Town of Suffield and the Suffield Police Department can be found at www.suffieldct.gov
SALARY/BENEFITS
Starting Salary:

$69,014.40 to $90,688.00

3+ years' experience starts $75,940.80

5+ years' experience starts $82,846.40
(Collective Bargaining Union Agreement is currently being negotiated)
Twelve Paid Holidays Per Year • Paid Vacation Days • Health Insurance • 457 Retirement Plan • Short Term Disability, Long Term Disability and Life Insurance
MINIMUM QUALIFICATIONS
Education: Applicants must be a high school graduate or possess a GED.
License: Applicants must possess and maintain a valid driver's license.
Residency: Applicants must be U.S. citizens and reside within a twenty five (25) mile radius of the Police Department within one (1) year after completion of the department's field training program.
Drug Testing: Applicants shall be required to submit to a drug test as part of the pre-employment medical examination.
Character Requirements and other factors: Applicants must meet the highest legal and ethical standards. Honesty and integrity are paramount to the profession. Candidates will undergo a rigorous background investigation, including a polygraph, before any offer of employment. An applicant may be disqualified for poor employment history, recent use of illegal drugs, or previously undetected criminal activity.
HIRING PROCESS
The selection process will include, at a minimum, a detailed review of your application packet, and the successful completion of the Department's selection process which includes but may not be limited to the following:
Written Examination (70% passing)
Oral Examination (70% passing)
Polygraph Examination
Psychological Evaluation
Detailed Background Investigation
Medical Examination
Chief's Interview
Police Commission Interview
HOW TO APPLY
Applications will only be accepted online at www.PoliceApp.com/SuffieldCT
All communications and notifications from Suffield Police Department will be done by email through PoliceApp.com. Please log in to your account on regular basis to read and confirm all emails. If you have any questions about the hiring process please contact Captain Palmer at (860) 668-3380 rpalmer@suffieldct.gov or Lt. Ryan Burrell at (860) 668-3870 - rburrell@suffieldct.gov
The Town of Suffield is an equal opportunity employer m/f/d/v. The above posting is intended as a guide and is not a complete description of the position or process.
Please direct questions regarding this position to rburrell@suffieldct.gov
Jobs close at 11:59 PM (Eastern) on the deadline date specified, or when the position capacity has been met, or unless otherwise specified in the announcement. If the deadline date is not specified in the announcement, the agency has sole discretion on setting the deadline and jobs may close without notice. It is the applicant's responsibility to thoroughly read and understand the deadline requirements and capacity limits as outlined by the agency.

Applicants are responsible for checking their email and logging into their PoliceApp, PublicSafetyApp, FireFighterApp or EmployementApp account to monitor for emails, scheduling and process updates.
Login & Apply Now