Richland Hills - Certified Police Officer
---
Job Announcement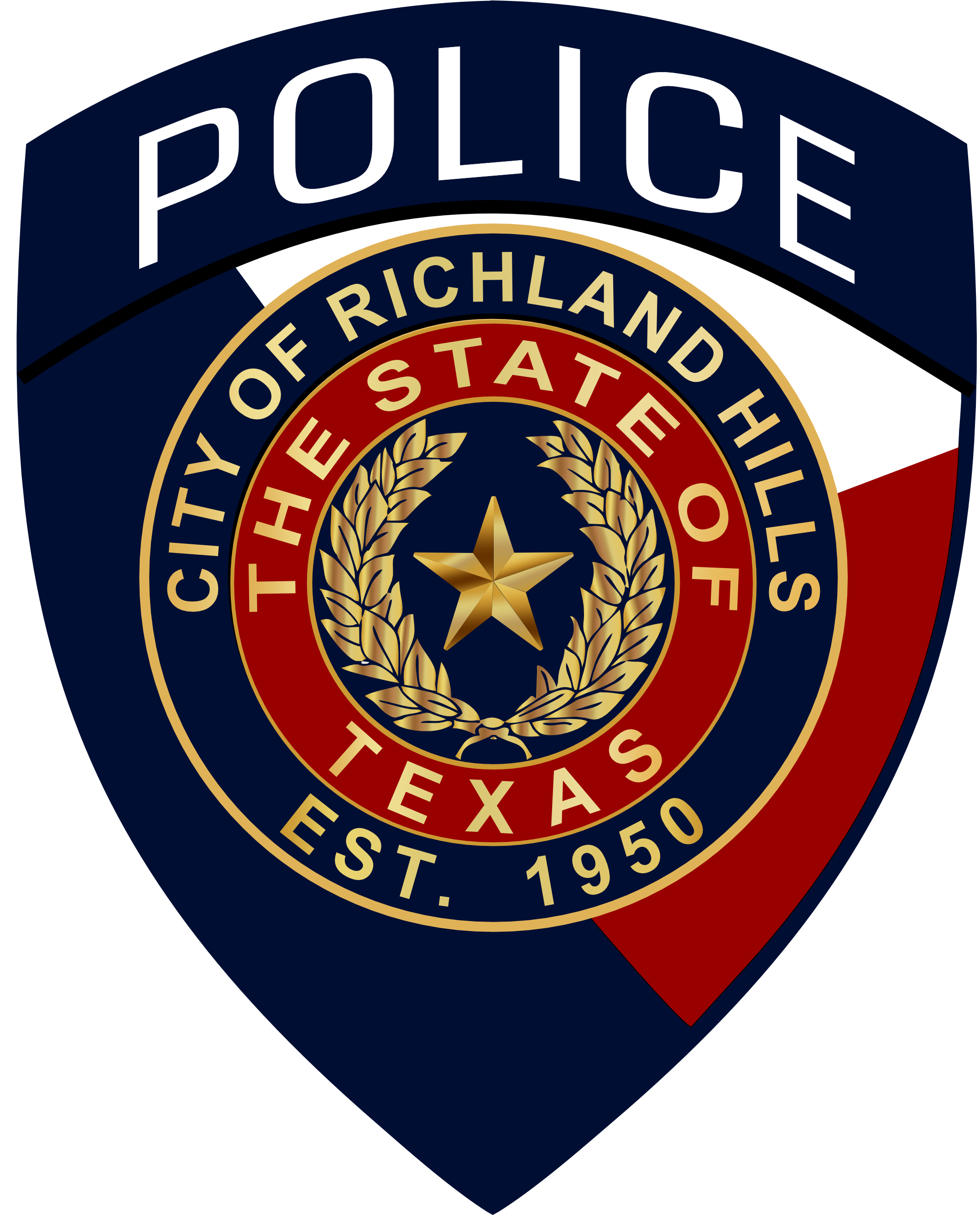 RICHLAND HILLS POLICE DEPARTMENT
NOW HIRING
CERTIFIED & NON-CERTIFIED POLICE OFFICER
Salary Range: $61,280.00 to $73,171.00
Written and Physical Assessment tests are waived for currently employed full-time sworn and TCOLE certified officer applicants
SIGNING BONUSES OFFERED- $5,000 for certified officers (no experience required) and $10,0000 for qualifying lateral transfers

POSITION: Police Officer
The City of Richland Hills, Texas (pop. approx. 8,000) is seeking a certified Police Officer dedicated to providing crime prevention and law enforcement responsibilities on an assigned shift, conducts routine patrols, preliminary investigation, follow-up or specialized investigations, and traffic-related duties. The ideal candidate must be ethical and trustworthy, interested in serving the public and working as part of a team.
THE CITY:
The City of Richland Hills is a small community in the Dallas/Fort Worth metropolitan region, it is an organization deeply committed to providing quality police services through partnerships with the community, protecting constitutional rights through ethical decision-making and providing leadership to the police profession.
POLICE OFFICER WRITTEN & ROW TEST INFORMATION:
Written and Physical Assessment tests are waived for currently employed full time sworn officer applicants
The Richland Hills Police Department will be administering a written test for the position of police officer. You will be notified of the test date after your completed application has been received and approved. The written test will be at the Richland Hills Police Department, 6700 Baker Blvd., Richland Hills, TX 76118. The test will consist of mathematics, reading comprehension, grammar and incident report writing. The test will take one hour and fifteen minutes to complete and will begin promptly at the time it is scheduled, so be early for your testing appointment and allow plenty of time to arrive!
Practice test and study guide materials for the POST test can be obtained at https://www.applytoserve.com/Study/
In order to test with the department, job seekers must be at least 21 years of age with a high school diploma or G.E.D. Police officer certification is required.
A physical fitness test will be administered on this same day to those that pass the written test. More information on the location will be provided following the written test. The physical fitness test will consist of a Concept 2 Rower test.
Concept 2 Rower Test Minimum Requirements:
To successfully pass the Concept 2 Rower test, an applicant is required to complete the 2,000 meter row and achieve a minimum score of 25% (as of February 2020), with the difficulty level set to "5". The passing score is determined based on your gender, age and weight. All row tests will be administered by a certified tester. To determine your minimum standard for a passing 25%, visit the Texas Department of Public Safety website and follow the steps below:
- under the "Inputs" section select your gender and age range, then type in your weight
- under the "Desired Results" section, type in "25" and click "Calculate"
- you must achieve that time or faster to pass the Concept 2 Rower test.
Training for the 2000 meter row:
Proper technique and instructions
Common Errors
You should be in good physical condition before attempting the physical fitness test. If any applicant has any questions concerning their physical fitness level to participate in the row test exercise, they should consult their doctor before participating or beginning any training regime.
JOB REQUIREMENTS:
This position requires a High School Diploma or G.E.D., Texas Driver's License without restriction except" A"; and U.S. citizenship status. CLICK HERE for a complete list of requirements. The successful candidate must demonstrate intrinsic motivation, high ethical and moral standards, and excellent written and verbal communication skills including the ability to take effective action in emergency situations, exhibit emotional stability and courage to perform potentially dangerous law enforcement duties under stress, represent the department in a professional manner and provide a positive role model on and off duty. Applicants must be able to successfully clear an oral board, psychological, polygraph, physical, and background check. TCOLE Certified Officers currently employed full-time with a Law Enforcement agency will not be required to take a written and physical agility test. Certified Officers who are not serving in a full-time status with a Law Enforcement agency will be advised of a test date, time, and location.
DISQUALIFIERS:
Applicants may be disqualified for employment with the Department for a time frame established by the Chief of Police and may be from six months to permanent disqualification. Time calculations for an action that constitutes disqualification for a specified period of time shall be calculated from the date the application is submitted by the applicant.
Temporary Disqualifiers - Applicants disqualified for the following reasons may re-apply once the assigned term of disqualification has passed, and will be required to re-apply once they are eligible:
Failure to meet the minimum requirements of the Police Officer job description.
Failure to meet minimum licensing standards set forth by TCOLE.
Failure to fully complete the Preliminary Interview Packet or Personal History Statement and follow all instructions therein.
Failure to cooperate fully with the selection process by: failing to keep scheduled appointments; failing to provide needed documents within specified time limits; failing to provide added personal information as needed, or failing to update changes within ten days of the change.
Failure to pass the final interview with the Chief of Police (or having a conditional offer of employment revoked).
Currently under indictment for any offense.
Having a voluntary surrender of license currently in effect for a license issued by the Texas Commission on Law Enforcement.
Having a general or less than honorable discharge on a TCOLE F-5 document.
Having engaged in marijuana (to include synthetic) usage within thirty-six (36) months of application.
Having a conviction for Driving While Intoxicated within the ten (10) years preceding application with the Department.
Being on court-ordered community supervision or probation for any criminal offense above the grade of class C misdemeanor.
Being convicted of certain Class A or Class B misdemeanors within the last ten years.
Being convicted of three (3) moving violations and/or accidents in the preceding two (2) year period or five (5) moving violations and/or accidents in the preceding three (3) year period.
Having a history of unstable work, to include short terms of employment with multiple employers over the applicant's work history, difficulty receiving orders from superiors, difficulty working with others, etc.
Failure to demonstrate the ability to read, write, and speak the English language.
Permanent Disqualifiers – The following are considered permanent disqualifiers. If an applicant is disqualified for any of the following reasons, they may not be considered for reapplication, except as specifically authorized by the Chief of Police on a case-by-case basis:
Admitting to or be found to have engaged in the use of or illegal manufacture or sale of any drug listed in the Texas Controlled Substance Act, to include hallucinogens.
Being convicted at any time of a felony offense as defined by Article 4413 (29aa), Sections 8A, Subsection (c), V.A.T.C.S.
Being under indictment or pending trial for a Felony, Class A or Class B Misdemeanor.
Having a license issued by the Texas Commission on Law Enforcement previously revoked or denied by Final Order.
Having ever executed at any time a confession to a felony offense, such confession being admissible as evidence against the applicant in any criminal proceeding in any state or federal court.
Being convicted of, or admitting to, any crime involving moral turpitude.
Being convicted of, or admitting to, any felony.
a. The classification of a felony offense conviction that is later changed by the legislature to a lower classification will not be considered to be a felony conviction when determining eligibility under this Subsection.
Being convicted of a family violence offense as defined under Chapter 71, Texas Family Code.
Receiving a Dishonorable discharge from any military service, or a discharge under less than honorable conditions, including bad contact or any other characterization of service indicating bad character.
Having had a Texas Commission on Law Enforcement issued license denied by final order or revoked, currently on license suspension, or have a voluntary surrender of license currently in effect.
Being prohibited by state or federal law from operating a motor vehicle.
Being prohibited by state or federal law from possessing firearms or ammunition.
Making any false statements of facts; being deceptive by statement or omission in the Preliminary Interview Packet or Personal History Statement or by any means in any part of the selection process.
Being dismissed from public office or public service for delinquency, misconduct, or inefficiency.
Being involved with, or associated with, any group or organization which advocates the violent overthrow of the United States or Texas governments, or any local government.
Being involved with, or associated with, any group or organization which advocates violence against any group or person based on sex, gender, race, religion, national origin, sexual preference, disability, Veteran status, or any other protected classification.
Being terminated by an employer due to conduct which would violate the rules and regulations of this Department or the City of Richland Hills or render the applicant unfit to be an employee of the City of Richland Hills.
COMPENSATION:
Hourly rate is $29.46 to $35.17 DOQ. Member of TMRS - 7% match 2 to 1. Medical, dental, life insurance and long-term disability provided to employee at no cost, Spouse/Dependent health insurance cost is 50% paid by the city, in addition the city provides optional dental, 457 deferred compensation, flexible spending, tuition reimbursement, and provides vacation and sick leave, and 11 paid holidays.
LATERAL ENTRY PROGRAM REQUIREMENTS:
Must have a minimum of two years of continuous experience as a paid, full-time police officer, excluding time spent in the academy and field training, with responsibilities comparable to that of a police officer with the Richland Hills Police Department. Out of state applicants must challenge and pass the TCOLE state exam before a final job offer will be given. Reserve police officer status or other unpaid status will not be used in calculating the active service requirement.
Applicants may not have any pending disciplinary actions or investigations for misconduct or criminal Texas officers who are no longer employed as a police officer must have an Honorable Discharge on file with TCOLE.
Applicants must have no less than a 90-day break in service from the time they separated from a comparable STEP lateral consideration.
Lateral police officers must successfully complete each step in the hiring process in the same manner as any other applicant.
Lateral police officers who are TCOLE certified are eligible for an abbreviated training period.
Lateral police officers are eligible for lateral pay commensurate with their experience:
STEP 2 $63,118 (2 years experience)
STEP 3 $65,012 (3 years experience)
STEP 4 $66,962 (4 years experience)
STEP 5 $68,971 (5 years experience)
STEP 6 $71,040 (6 years experience)
The Chief of Police shall make the final determination as to whether an applicant meets the criteria for the Police Lateral Entry The Chief s decision shall be final and non-appealable.
*Those that are certified but do not meet the lateral entry requirements may still apply and compensation will be based on STEP 1 ($61,280).
EQUAL EMPLOYMENT OPPORTUNITY EMPLOYER
The City of Richland Hills does not discriminate on the basis of race, color, national origin, sex, religion, age, veteran and/or disability status in employment or provisions of service.
Please direct questions regarding this position to RHPDHiring@richlandhills.com
Jobs close at 11:59 PM (Eastern) on the deadline date specified, or when the position capacity has been met, or unless otherwise specified in the announcement. If the deadline date is not specified in the announcement, the agency has sole discretion on setting the deadline and jobs may close without notice. It is the applicant's responsibility to thoroughly read and understand the deadline requirements and capacity limits as outlined by the agency.

Applicants are responsible for checking their email and logging into their PoliceApp, PublicSafetyApp, FireFighterApp or EmployementApp account to monitor for emails, scheduling and process updates.
Login & Apply Now