Montana Department of Justice - Narcotics Criminal Investigator
This job is currently closed. Please check our
Current Jobs
.
---
Job Announcement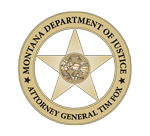 Crime Investigator
Mission:
Every day at the Montana Department of Justice, our employees are dedicated to ensuring the well-being and rights of the people of our great state. At the Department of Justice we do the right thing for the right reason. If you're looking for an opportunity to be part of a team that builds a culture of character and excellence, demonstrates collaboration and selfless public service, and upholds the law and pursues public safety, the Department of Justice may just be the career for you.

Please take a moment to watch this DOJ Introductory Video to learn more about the services provided by the Department of Justice for the citizens of Montana.
Division Overview:
Montana's Division of Criminal Investigation is a diverse public safety team of professionals who provide a full range of criminal investigative services to state, local, and tribal law enforcement. From homicide investigations to illegal narcotics, criminal records, cybercrime, human trafficking, missing persons, or through training and certifying public safety officers, DCI serves as the hub in providing critical law enforcement support. Our diverse customer base includes protecting our vulnerable population, managing the sexual and violent offender registry, serving as the hub of communication for criminal justice information networks and the storage of criminal records, conducting arson investigations, as well as providing intelligence analysis support for local law enforcement. Many of our positions within DCI go without public recognition but remain the lifeline of support for public safety. With a doctrine of service, honor, and justice, this statewide organization provides the best in critical, accurate, and timely service to protect our citizens.
Job Overview:
This position is a Criminal Investigator and coordinates and conducts investigations involving a broad range of allegations of felony violations of the Montana Criminal Codes and other crimes referred from external agencies. Coordinates with several agencies to provide investigative, law enforcement, and criminal intelligence technical expertise for other agencies.
This position works within the Narcotics Bureau of the Division of Criminal Investigation (DCI) and is responsible for the coordination and execution of criminal investigations into allegations of felony violations of the Montana Criminal Codes – specifically those related to narcotics enforcement; work in an undercover, proactive capacity to develop cases that primarily involve violations of state and federal dangerous drug laws as well as other felony criminal violations. Narcotics Investigators respond to meth labs and provide drug-related training to many different audiences statewide.
Qualifications
Five (5) years of law enforcement experience including a variety of felony investigations.
Current POST Law Enforcement Basic Certificate (or equivalent from other state) required.
Must have a valid driver's license and meet the qualifications to operate a department vehicle or personal vehicle for department business, required by state and department policies.
Firearms' training is mandated for peace officer requirements and liability.
Knowledge, Skills and Abilities:
This position requires extensive knowledge of law enforcement; investigative procedures; planning; report writing; coordinating the activities of multiple agencies and jurisdictions; developing, conducting and presenting complex long-term conspiracy-type cases; have the knowledge what is contained within Montana Code Annotated and related federal laws as it pertains to DCI Agents.
Skill in using all types of technical equipment necessary to conduct criminal investigations; conducting covert investigations; operating equipment necessary to conduct covert investigations; making correct/legal and appropriate decisions in highly stressful situations; giving instructions/advice; establishing and maintaining effective working relationships with employees; communicating effectively verbally and in writing; and in reviewing case plans and information. Knowledge and skills required to safely conduct tactical operations. Skilled in drafting and presenting search warrants, investigative subpoenas and forfeiture documents to prosecutors and judges for review and issuance.
Narcotics Investigators must be skilled in accurately reporting contacts, witnessed events, statements, and shall always maintain the highest professional standards of integrity and conduct.
Special Instructions:
The selection procedures to be used in evaluating the applicant's qualification may include, but are not limited to, an evaluation of the résumé and cover letter, a structured interview, performance test, academic transcripts, reference/background checks and fingerprint checks.
Additional materials, references or information submitted by the applicant, but not requested, will not be considered.
Successful applicant(s) will be subject to:
Criminal History Fingerprint Check
Intensive Background Check
Driving History
Pre employment medical exam
Psychological exam
Drug and Alcohol Test
HOW TO APPLY:
In order to be considered for this position, you must attach a cover letter and résumé at the time of application.
Your Cover Letter: How do your qualifications and experience directly correlate to the duties of this position and what makes you the best candidate for the job?
Your Résumé: Please include all work experience as well as job duties that demonstrate your qualifications for this position. Include dates of employment (month & year- start & end) and the reason you left each job.
A complete online state application is not required, however you will need to initiate the application and attach the cover letter and résumé in order to be considered for this position. Failure to attach a cover letter and résumé will result in an incomplete application that will not be considered further.
Only electronic applications will be accepted. Materials submitted but not requested will not be considered in the selection process.
All documents for Veteran or Disability preference must be received or date stamped by the closing date. You will receive an email with instructions on how to submit such documents.
If you need an accommodation with the application process, please contact the HR office.
Your service is rewarded with competitive compensation and generous State of Montana Benefits.

Medical, dental and vision coverage
Retirement plans
Generous paid vacation, sick and holidays
Pre-tax Flexibility Spending Accounts
Employee Assistance Program
State of Montana employment may qualify for student loan forgiveness under the Public Service Loan Forgiveness (PSLF) program.
Minorities are under-represented in this position and are encouraged to apply.
Applicant Pool Statement: If another department vacancy occurs in this job title within six months, the same applicant pool may be used for the selection. Training Assignment: This agency may use a training assignment. Employees in training assignments may be paid below the base pay established by the agency pay rules. Conditions of the training assignment will be stated in writing at the time of hire.
Job:
Safety
Salary:
$
29.49 - 29.49 Hourly
Benefits Package Eligibility:
Health Insurance, Paid Leave & Holidays, Retirement Plan
Number of Openings:
1
Employee Status:
Regular
Schedule:
Full-Time
Shift:
Variable
Travel:
Yes, 50 % of the Time
Primary Location:
Billings, Kalispell, Butte, and Miles City
Agency:
Department of Justice
Union:
Montana Federation of Public Employees
Bargaining Unit:
048 - MFPE-DOJ Crime Investigators
Posting Date:
Apr 1, 2020, 3:05:46 PM
Closing Date (based on your computer's timezone):
APRIL 30, 2020, 1:59:00 AM
Required Application Materials:
Cover Letter, Resume
Contact Name: DOJ CSD Human Resources Contact Email: DOJCSDHR@mt.gov Contact Phone: 406-444-5528
The State of Montana has a decentralized human resources (HR) system. Each agency is responsible for its own recruitment and selection. Anyone who needs a reasonable accommodation in the application or hiring process should contact the agency's HR staff identified on the job listing or by dialing the Montana Relay at 711. Montana Job Service Offices also offer services including assistance with submitting an online application.

State government does not discriminate based on race, color, national origin, religion, sex, sexual orientation, gender identity or expression, pregnancy, childbirth or medical conditions related to pregnancy or childbirth, age, physical or mental disability, genetic information, marital status, creed, political beliefs or affiliation, veteran status, military service, retaliation, or any other factor not related to merit and qualifications of an employee or applicant.
Please direct questions regarding this position to DOJCSDHR@mt.gov
Jobs close at 11:59 PM (Eastern) on the deadline date specified, or when the position capacity has been met, or unless otherwise specified in the announcement. If the deadline date is not specified in the announcement, the agency has sole discretion on setting the deadline and jobs may close without notice. It is the applicant's responsibility to thoroughly read and understand the deadline requirements and capacity limits as outlined by the agency.
×
Get Real-Time Job Alerts!
Join our mailing list to receive up-to-the-minute job alerts, exam notifications and more: