State Capitol Police
---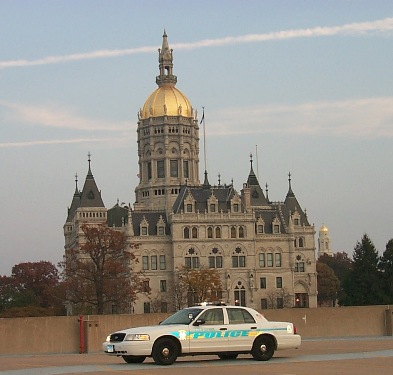 Chief's Message:
Welcome to the Connecticut State Capitol Police Department's on-line application site. Thank you for taking the time to visit our site and for your interest in employment with the State Capitol Police.
The Connecticut State Capitol is the focal point of state government. It is where government occurs and over 100,000 persons visit each year on business, for education, or tourism. It is an exciting and challenging environment that is the site of democracy, celebration, demonstration and protest. No two days are alike.
Serving in a new world, the State Capitol Police Department has the awesome responsibility of protecting "Democracy" in an environment that must be accessible to the public yet diligently patrolled. It is the mission of the State Capitol Police Department to support the Connecticut General Assembly by creating a safe and secure environment in which to conduct the legislative process. We carry out this role in a manner that respects the rights and dignity of all persons.
State Capitol Police Officers patrol a seventeen acre campus in Downtown Hartford that includes the State Capitol and Legislative Office Buildings, garages and supporting State offices. We work in partnership with the City of Hartford and the State Police Departments.
State Capitol Police Officers are highly trained, well equipped professionals. I place an emphasis on training and preparedness. Officers are provided with know how and the most up-to-date equipment and technology available to do their job. Officers meet and maintain police officer certification standards, as mandated by state law and regulated by the Police Officer Standards and Training Council. I encourage and support professional development training. The department has been nationally accredited through the Commission on Accreditation for Law Enforcement Agencies (CALEA) since 2003. The department also earned state accreditation in 2006. Officers maintain emergency medical response certification at the MRT level. In addition to police related training, the Connecticut General Assembly supports continuing personal education through a tuition reimbursement program.
Please take a moment to visit the State Capitol Police Department's web site at www.cga.ct.gov/cop and also to view our on-line recruitment brochure. Links to these sites from PoliceApp.com have been created.
If you are the type of person who is interested in working in a progressive and dynamic environment please apply today. If successful, you will have the personal and professional satisfaction of working in a law enforcement agency whose core values are to Serve and Protect, Respect All Persons, and to Strive for Excellence.

Good luck and thank you again for your interest,
Walter Lee Jr.
Chief of Police
---
Testing Requirements
| | | |
| --- | --- | --- |
| Written | | 70 |
| Physical | | 50 |
| Oral (Assessment) Exam | | 70 |
---
The components of the selection process are:
Submission of employment application
Written Test
Oral panel Testing
Physical Agility Test
Background Investigation

Character
Criminal History
Employment History
Motor Vehicle Driving Record

Psychological Examination
Polygraph Examination

Educational Background, Current and Prior Police Hiring Processes, Employment and related Issues, Criminal Activity, Use of Alcohol, Motor Vehicle History, Medical History, Sexual Activity, Drug History, Subversive Groups or Gang Activity, Financial History, and Conduct as a Police Officer

Conditional Offer of Employment
Medical Examination
Drug Screening
Chief's Interview
---
The listing above does not illustrate the exact order in which these components will be administered. The candidate will be eliminated from the process upon failure to meet any one of the testing components outlined above. The officer testing and selection process for the State Capitol Police Department ranges from approximately two (2) to nine (9) months long.
Candidates not offered employment or placed on the eligibility list resulting from this testing process may reapply in a future selection process for the State Capitol Police Department.