Open Competitive Examination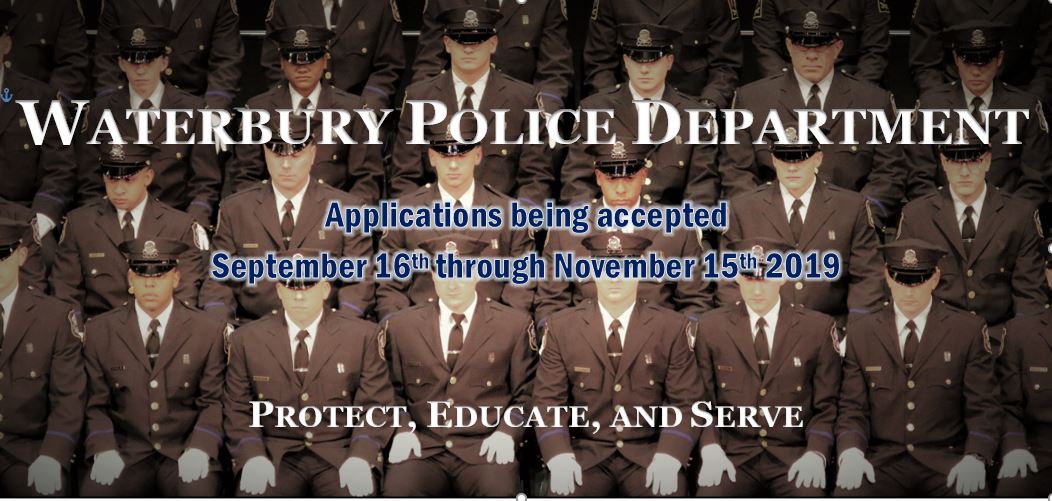 Join our team of Law Enforcement Professionals!
Patrolman Salary Range: $59,676.68 to $75,426.96
The City of Waterbury, CT will soon be accepting applications for the position of Police Officer
Applications will be accepted Monday, September 16th until Friday, November 15th 2019!
To apply, visit: www.policeapp.com/waterburyct
NOTE: To apply for this position, applicants must have passed a physical fitness examination and posses a valid CHIP card during the time this application process is open (9/16/2019 to 11/15/2019).
To obtain a CHIP card visit www.certifyfit.com to schedule a physical fitness test. There are currently two (2) physical fitness testing dates that are scheduled to be held in Waterbury:
Sunday, October 13, 2019 - Holy Cross High School - 587 Oronoke Road Waterbury, CT 06708
Sunday, November 10, 2019 - Holy Cross High School - 587 Oronoke Road Waterbury, CT 06708
Additional physical fitness CHIP testing dates are available and can be found at the certifyfit.com website
Applicants must be a high school graduate or hold a high school equivalency certificate. Any questions regarding the application process for this position can be directed to the City of Waterbury Human Resources Department, 236 Grand Street Suite #202, Waterbury, CT 06702 - Phone: (203) 574-6761 - www.waterburyct.org/hr
For more information about the Waterbury Police Department please visit our website at wtbypd.org
The City of Waterbury is an Equal Opportunity Employer
M/F/D/V