Gulfport - Police Officer
---
Job Announcement

Gulfport Police Department
POLICE OFFICER
MAJOR FUNCTION
Applicants who meet minimum requirements and/or have Basic Recruit Training Course for Law Enforcement Officers and possess a current employment certificate of compliance for Law Enforcement issued by the Criminal Justice Standards and Training Commission. Certified applicants who are selected for employment will be hired at a minimum rate of $55,366.98 per year. A Police Officer is a sworn member who is eligible for high-risk retirement benefits as well as education incentive payments
DESIRABLE QUALIFICATIONS
Knowledge, Abilities and Skills
Considerable knowledge of modern principles and practices of police work, the criminal justice process, laws and ordinances. Ability to analyze disputed and complex situations objectively and to determine the proper course of action. Ability to cope with situations firmly, courteously, tactfully, impartially and with respect for the rights of others. Ability to react quickly and calmly under dangerous and/or emergency conditions. Ability to understand and execute difficult oral and written instructions and to prepare clear and comprehensive reports. Ability to express oneself clearly and concisely, orally and in writing. Ability to maintain effective working relationships with peers, supervisors and the general public. Ability to participate in the physical training required during basic recruit training. Skills in public speaking and public relations techniques and methods. Skill in the use of personal computers and the programs and applications associated with assigned duties and responsibilities.
Minimum Training and Experience
Possession of an associate's degree; or successful completion of 90 quarter hours or 60 semester hours of college; or 2 years full-time law enforcement work in a sworn capacity, or two years active full-time military experience; or active reserve military experience with at least two years of deployment; or an equivalent combination of training and experience.
Also considered is participation in a Boy Scouts of America approved Law enforcement Explorer Program for at least 3 years with the above combination.
Necessary Special Requirements
Must be at least 21 years of age, a citizen of the United States, with no pending criminal charges.
Must have no convictions for any felony, perjury, false statement, or domestic violence.
Must have no DUI convictions within ten years of application. Other arrest histories are reviewed on a case-by-case basis.
Must possess a valid Class E State driver's license and have a satisfactory driving history. Must pass a thorough background investigation, written exercise, oral board, and drug, medical and psychological screenings. The top applicant chosen for this position will be required to complete and pass a Truth Verification Examination prior to an employment offer being made.
Applicants should truthfully complete the Criminal History Questions on the City Employment Application. Any omissions, falsifications, misstatements, or misrepresentations of the information provided may disqualify an applicant.
Must successfully complete a drug history review: no use of marijuana within three years of application; no use of any other drugs, including anabolic steroids, within ten years of application; no sale, distribution, manufacture, or transportation of any illegal drugs as defined by F.S. 893.03; no use of prescription medication or other legally obtainable controlled substance in a manner for which it was not intended within three years of application.
Must meet the minimum requirements to attend an accredited State of Florida Law Enforcement Academy if not certified in the State of Florida.
Must go through the Police Applicant Screening Service. Fee is $250.00 (This is Mandatory for all agencies in Pinellas County)
The city of Gulfport is an equal opportunity employer and does not discriminate on the basis of race, sex, religion, age, national origin, disability or other non merit factors.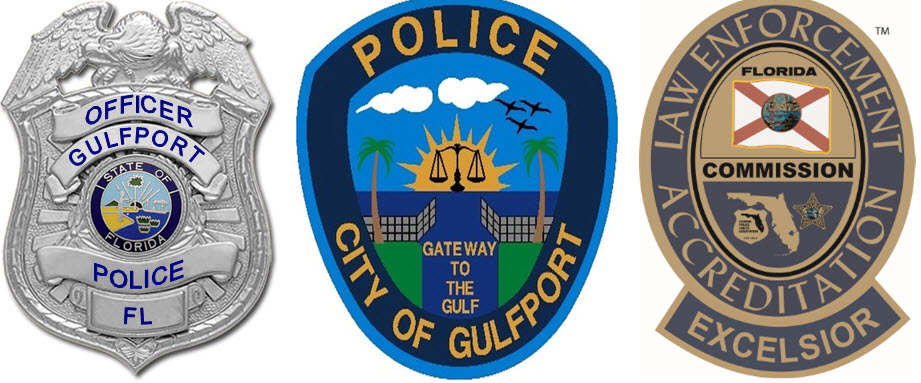 Please direct questions regarding this position to mrossi@mygulfport.us
Jobs close at 11:59 PM (Eastern) on the deadline date specified, or when the position capacity has been met, or unless otherwise specified in the announcement. If the deadline date is not specified in the announcement, the agency has sole discretion on setting the deadline and jobs may close without notice. It is the applicant's responsibility to thoroughly read and understand the deadline requirements and capacity limits as outlined by the agency.
Login & Apply Now
×
Get Real-Time Job Alerts!
Join our mailing list to receive up-to-the-minute job alerts, exam notifications and more: